​CIC Award for Philanthropy (Individual)
Presented to James F. Dicke II and Janet St. Clair Dicke
CIC honors your philanthropic leadership in support of the arts and education. You have set an inspiring standard of philanthropic service for all supporters of higher education.
Your impact on CIC members Ohio Northern University, Ohio Wesleyan University, and your alma mater, Trinity University has been transformative. Your generous contributions for scholarships, campus programs, facilities, and infrastructure projects have benefited countless faculty members and students.
Recognizing that your philanthropy has served as a model for others, the presidents of the nation's independent colleges and universities honor your distinguished record of generosity and service.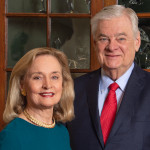 Throughout their lives, the Dickes have graciously and generously supported the causes close to their hearts, with a particular interest in education and the arts. The influence of their philanthropy has been profound, bettering society and the lives of countless individuals. At Ohio Northern University (ONU), Ohio Wesleyan University (OWU), and Trinity University (TX), the impact has been transformative. The Dicke family's relationship with ONU started with Jim's father, James Sr. Jim and Janet, in the Dicke family tradition, have provided vital support for student scholarships, facilities, and innovative programs that have furthered ONU's mission. While neither attended Ohio Wesleyan, the Dickes have a longstanding interest in OWU growing out of an endowed scholarship Jim's grandmother established following the death of her husband, Jim's grandfather. Through the years, Jim and Janet supported the Carl H. Dicke scholarship, the Horatio Alger program, and the Dicke House . At Trinity, where they were both undergraduates, they have left a special legacy. They established two endowed scholarships: the Irene Dicke Scholarship and the Janet S. Dicke Scholarship.
History of the Philanthropy Award—Individual
The historical and literal definition of "philanthropy" is the "love of humankind." This award celebrates an individual or individuals who demonstrate this love through consequential giving—either in volunteer service or financial support or both—to independent colleges and universities that share the mission of the Council of Independent Colleges. The award honors those who, by their example, provide a beacon for others to follow.
Although every independent college and university president can identify individuals whose contributions have been significant in the life of a particular institution, CIC recognizes with this award individuals who have been important to more than one college or university. Recent examples have included individuals who have provided major support to several different institutions, or to all of the private colleges and universities in one state, or to a number of institutions affiliated with a specific religious denomination. In addition, these philanthropists have often further distinguished themselves by sustained commitment, or by drawing attention to critical needs not yet well supported.
PREVIOUS PHILANTHROPY AWARD RECIPIENTS
2022 Robert and Karen Hale
2021 Henry B. and Patricia Bush Tippie
2020 Timothy H. and Sharon Williams Ubben
2019 Robert O. Carr
2018 Ronda E. Stryker and William D. Johnston
2016 O. Jay and Patricia Tomson
2015 Roger Mudd
2014 Joan and Macon Brock
2013 E. Ronald Salvitti
2012 T. Jerome and Carolyn Rae McGonigle Holleran
2011 Red and Charline McCombs
2010 William T. Young, Jr. and Barbara Smith Young
2009 Craig Dykstra
2008 H. F. (Gerry) and Marguerite Lenfest
2007 Marvin Suomi
2006 Maynard and Carolyn Sauder
2004 Stanley M. and Helen Jensen Howe
2003 Elizabeth Perkins Protho
2002 John and Constance Vucurevich
2000 Julie J. Kidd
---
CIC Award for Philanthropy (Organization)
Presented to the Jaharis Family Foundation
CIC salutes the Jaharis Family Foundation for its generous support of higher education, health care, arts and culture, religious institutions, and humanitarian causes—a tradition of giving that honors Michael Jaharis' legacy and passions.
Grants from the Foundation have allowed CIC members Carroll University (WI), Haverford College, Knox College, and North Park University to complete significant projects and implement new programs.
The presidents of the nation's independent colleges and universities honor the Jaharis Family Foundation for its distinguished record of generosity and service.
The Jaharis Family Foundation was co-founded by the late Michael Jaharis and his wife Mary Jaharis. Michael Jaharis was a co-founder of Vatera Healthcare Partners. His passion for pharmaceutical innovation combined with a long-term vision of clinical and market needs contributed to successes with a number of pharmaceutical companies. This success has enabled the Jaharis family to give back through their philanthropic contributions to numerous educational, cultural, and religious institutions and humanitarian causes. Generations will remember and benefit not just from Michael Jaharis' contributions to the pharmaceutical industry, but also from his deep commitment and generosity to the causes in which he believed. Michael Jaharis received a bachelor's degree from Carroll University (WI) and a law degree from DePaul University.

The Jaharis Family Foundation's largesse includes support (between 2013 and 2019) to four CIC members:
Carroll University (WI): $3.15 million and $4 million designated for future payment
Haverford College: $4.2 million and $14.2 million designate for future payment (some earmarked for specific programs)
Knox College: $25,000
North Park University: $1 million and $1 million designated for future payment
In addition, the Foundation has provided generous support to the Art Institute of Chicago, Barnard College, DePaul University, Hellenic College, Lawrence University, Northwestern University, Tufts University School of Medicine, and the University of Chicago Business School.
History of the Philanthropy Award—Organization
Philanthropic foundations and corporate giving programs support innovative thinking and the development of ideas and programs. As important cultural agents, they focus the nation's attention on pressing issues facing our society. This award celebrates a foundation or corporation whose support to CIC or private colleges and universities has demonstrated leadership and vision and consequently has made a significant difference in the vitality of independent higher education.
With this award, CIC seeks to honor philanthropic organizations, whether their scope is national or regional, that have made the support of independent colleges and universities a priority in their funding or have discovered that independent institutions are particularly successful grantees in addressing the funding organization's priority areas. Many of the foundations and corporations that have received this award also have demonstrated sustained commitment to independent higher education over a number of years and even decades.
PREVIOUS PHILANTHROPY AWARD RECIPIENTS
2022 The Cannon Charitable Interests
2021 The Duke Endowment
2020 Raskob Foundation for Catholic Activities, Inc.
2019 The Bernard Osher Foundation
2018 Newman's Own Foundation
2017 Research Corporation for Science Advancement
2016 The Corella and Bertram F. Bonner Foundation
2015 James S. Kemper Foundation
2013 Coca-Cola Company
2012 The John R. Oishei Foundation
2011 The Arthur J. Schmitt Foundation
The Walmart Foundation
2010 The Bernard McDonough Foundation
2009 Shelby M. C. Davis United World College Scholars Program
2008 Lettie Pate Whitehead Foundation
2007 George I. Alden Trust
2006 Andrew W. Mellon Foundation
Davis Educational Foundation
2005 The UPS Foundation
2004 Scholarship America
2003 Jessie Ball DuPont Fund
2002 The Bush Foundation
2001 The Arthur Vining Davis Foundations
2000 The Kresge Foundation
The M. J. Murdock Charitable Trust
---
CIC Allen P. Splete Award for Outstanding Service
(Sponsored by Jenzabar)
Presented to David L. Warren
CIC pays tribute to your work as a champion for independent colleges and universities, especially your efforts to make education more accessible and to increase financial aid for all students. You have made a significant impact on American higher education and in the national community service movement.
As president of the National Association of Independent Colleges and Universities (NAICU) and of Ohio Wesleyan University, you contributed enormously to strengthening the impact that higher education has on students' lives. Your efforts to engage students in the political and electoral process were especially notable.
The presidents of the nation's independent colleges and universities are proud to honor your distinguished record of accomplishment and your many contributions to presidential leadership.
David L. Warren served as president of the National Association of Independent Colleges and Universities (NAICU) from 1993 to 2019, after nearly a decade as president of Ohio Wesleyan University. A tireless crusader for America's private colleges and for increased financial aid funding for all college students, Warren was widely regarded as one of the most persuasive and influential voices for higher education within Washington, D.C. He was frequently asked to provide testimony to Congress on vital matters of legislation and policy, to speak at higher education national conferences and on campuses, and is regularly quoted by the news media on national higher education issues. Warren was a leader in the national community service movement, as a member of the founding board of Campus Compact, and a member of its executive committee. In addition, while president of Ohio Wesleyan, he served as chair of a state task force that addressed state government reform, and was Governor Richard Celeste's appointee as chairman of the Ohio Ethics Commission for two years.
History of the Allen P. Splete Award
The Allen P. Splete Award is presented to an individual, organization, or publication in recognition of significant contributions to independent higher education. Recipients have demonstrated national leadership, through ideas and commitment, on behalf of private colleges and universities.
With this award, CIC recognizes individuals and organizations that have contributed to greater understanding and appreciation of the role of independent colleges and universities or have been responsible for significant improvements in these institutions. Examples include research and writing about this sector or a particular segment of it and giving voice to the needs and attributes of independent institutions in public forums, as well as behind the scenes. The award is named after Allen P. Splete, president of CIC from 1986 to 2000.
PREVIOUS ALLEN P. SPLETE AWARD RECIPIENTS
2022 Judith Block McLaughlin
2021 Earl Lewis
2020 Peter T. Ewell
2019 Johnnetta Betsch Cole
2018 Ernesto Nieto
2017 Arthur Levine
2016 W. Robert Connor
2014 Sandy Baum and Michael McPherson
2013 Alexander Astin
2012 Gordon Winston
2011 Mary Patterson McPherson
2009 George D. Kuh
2008 Stephen Joel Trachtenberg
2007 Eugene M. Lang
2006 Ken Yamada
2005 Thomas A. Emmet
2004 Elizabeth J. McCormack and Jerry I. Aron
2003 USA Today
2002 Patricia Willis
2001 Richard Kimball