Institute presenters and participants shared practical, cost-effective advice on topics such as student success, retention, and mental health—especially critical during the pandemic.
Kinzie Details Five Equity-Centered Strategies

Top Takeaways
Collaboration between chief academic, student affairs, and diversity officers is necessary to ensure that increased numbers of diverse student groups have an equitable, high-quality educational experience.
To achieve equity-centered student success, campuses need to cultivate relationship-rich interactions, a sense of belonging, collaborative learning, holistic advising, and high-impact practices.
---
The twin goals of quality and equity are the foundation for excellence in undergraduate education and must be pursued to help all students thrive in college, complete their degrees, and attain fulfilling careers, said Institute for Chief Academic Officers plenary speaker Jillian Kinzie, associate director of the Center for Postsecondary Research and the NSSE Institute at Indiana University School of Education. She explored data and lessons derived from the National Survey of Student Engagement (NSSE), a 20-year project in which 6.4 million students have participated, including more than 600 CIC member colleges and universities.
Findings from her and her colleagues' work over the last two years revealed the five most important strategies and practices for student success that is equity centered: high-quality, relationship-rich interactions; a strong sense of belonging; collaborative learning; advisors who listen, respect, and care; and high-impact practices (HIPs).
The first two—high-quality interactions and sense of belonging—are the most important, Kinzie said. "Relationships make higher education work. The simple act of a professor asking a student how they are doing can have a tremendous impact on the student's success." The responses by students in 2020 to questions about belonging indicate that the quality of students' interactions with other students, academic advisors, faculty members, student services staff, and other administrative staff is good overall (90 percent of first-year students said they feel a high sense of belonging). The sense of belonging for Black or African American first-year students, however, is lower than other groups. NSSE results suggest "campus teams should ensure that diverse perspectives and identity issues are reflected in courses; encourage positive, inclusive student-faculty relationships; and provide institutional support for diversity," for example, by encouraging contact among students from different backgrounds, Kinzie said. She also suggested that CAOs, CSAOs, and CDOs work with faculty members teaching first-year courses to devise early indicators of belonging.
When discussing the third student success factor, collaborative learning, Kinzie said, "Research on the positive role of peers is strong, yet we've likely under-deployed peers as a positive influence." She urged campuses to provide space for collaboration—culture centers or welcoming spaces that engage and unify diverse students.
Academic advising, the fourth factor in student success, "is vital to student learning and persistence. We need to make advising less transactional and more purposeful, with a strong emphasis on improving or 'reimagining advising' by making it more holistic, integrated, and reflective," Kinzie said. According to NSSE results, Kinzie noted "more than 75 percent of students agreed that their identity and culture were respected in advising appointments…. However, there is a lot more variability when the data is broken out by racial/ethnic identity. Those who experience less respect for their culture or identity are American Indian or Alaska Native, and Native Hawaiian or other Pacific Islander…so we need to pay attention to this." She encouraged campus teams to focus on implicit bias training and more inclusive teaching in order to develop stronger sensitivity to students' identity and culture.
Concerning high-impact practices, Kinzie remarked, "There is substantial evidence that—when done well—several practices engage students at levels that boost their performance across a variety of educational activities and desired outcomes." These practices and opportunities include learning communities, service-learning projects, student-faculty research, internships or field experiences, study abroad, and culminating senior experiences. "We repeat our analysis every year to determine the impact of HIPS, and we confirm every year that students who take advantage of these opportunities have the best college experience."
Chief Officers Discuss Ways to Help First-Generation Students Overcome Obstacles amid Pandemic

Top Takeaways
To help first-generation students acclimate to college life, institutions should encourage faculty and staff members to build community and establish strong relationships.
Initiatives should be strategic and empathetic—with campus leaders listening to and learning from students.
Successful campus initiates could include reimagined student registration processes and orientation programs, one-on-one coaching, peer and faculty/staff mentoring programs, financial literacy workshops, graduate and professional degree planning, and more.
---
Two teams of CAOs and SAOs described their campuses' efforts to help first-generation students overcome obstacles they faced acclimating to college life during the pandemic. Mount Mary University's (WI) Keri Alioto, vice president for student affairs, and Karen Friedlen, vice president for academic affairs, together with Bucknell University's (PA) Elisabeth Mermann-Jozwiak, provost, and Nikki Young, associate provost of equity and inclusive excellence, detailed how first-generation students are experiencing extreme anxiety, academic difficulties, and feelings of loneliness and isolation, and then shared campus strategies for student success.
"We cannot overestimate the effect of the pandemic on these students," Mermann-Jozwiak said. "Adjustment to in-person instruction has been difficult, as they faced increased economic, financial, and institutional barriers." Bucknell's response was to reallocate resources, hire an associate provost for transformational teaching and learning, and hire a point person for first-generation students. "We needed to ensure their success, so we created a system to help them navigate the bureaucracy…. With faculty, trustees, and a leadership team, we assessed how to anticipate students' questions of the bursars, registrars, and financial offices."
Young added, "ensuring that faculty, staff, and first-generation students build community with each other" and establish strong relationships was key to helping these students acclimate to campus. Bucknell offers a special orientation program for first-generation students, as well as monthly education sessions, a Posse program, a student ambassador program, a faculty/staff mentor program, and a fall reception. The university also is developing initiatives to promote comity and create the "right space" for first-gen students. The initiatives include expanded programming for alumni and families, efforts to boost parental support, a book/course equity project that makes expensive books and materials more accessible, targeted email outreach, and an Instagram site run by student leaders.
When the pandemic hit, Mount Mary University allowed students to choose their preferred mode of study, Alioto said. As a result, one-third of classes were remote, one-third were hybrid, and one-third were in person. To level the playing field for first-generation students, Mount Mary reimagined student registration processes and new-student orientations, added a summer success series, instituted programs on financial literacy and planning, administered a student success survey, and coordinated registration efforts. "We worked to ensure that students knew what was expected of them, to inculcate a sense of belonging, to provide learning resources for support, and to keep students academically on target," Alioto noted. She explained that the university embeds social justice issues into programs and provides students with one-on-one coaching, a peer mentor, cultural and educational enrichment programs, graduate and professional degree planning, and supplemental grant aid for eligible participants.
In closing remarks about supporting first-generation students, Mermann-Jozwiak said campuses should be intentional and strategic, but most importantly empathetic. "We need authentic listening and learning. If we are making changes, we need to talk to students first to ensure we understand them and are making thoughtful decisions for them."
Sense of Community Maximizes Student Achievement and Retention

Top Takeaways
Student retention is tied to many issues—including students' sense of belonging—and cannot be assured by using one simple strategy.
A communication strategy that pulls the community together can significantly boost student retention and success.
Collaboration among CAOs, CSAO, and CDOs is key for the work of retaining students and maximizing their chances of success.
---
Three senior administrators from Rhodes College (TN) offered a lively session on "Maximizing Student Achievement and Retention" during the Institute for Chief Academic Officers. Katherine Clay Bassard, provost and vice president for academic affairs, Meghan Harte Weyant, vice president for student life, and Sherry L. Turner, vice president for strategic initiatives and chief diversity officer, are relatively new arrivals at Rhodes—a factor that helped them bond quickly and facilitated their cooperative work. Echoing Jillian Kinzie's discussion, they emphasized the importance of this "trio" of campus roles for the work of retaining students and maximizing their success.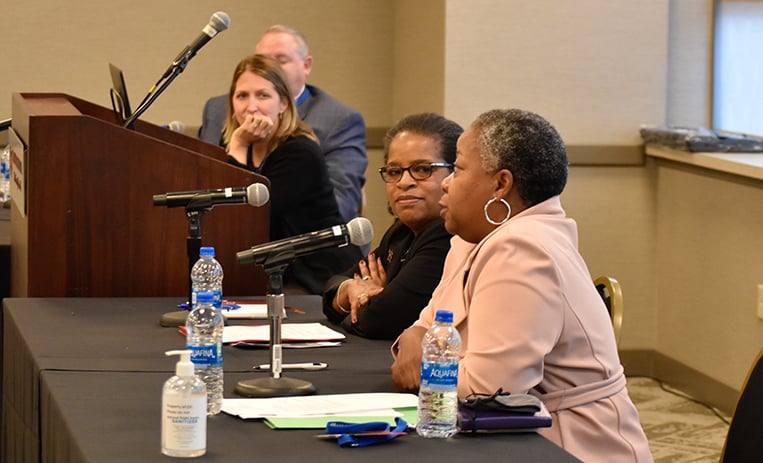 Student retention is a multi-faceted reality; no "silver bullet" solution can address all the issues that students and colleges face. Retention-related elements include which communication strategies are used; how student data is collected and disseminated; how the college handles events that affect the whole campus, such as accidents and tragedies; and how the college competes with other voices in making its positions and priorities clear. The panelists told the story of a tragic death that occurred off-campus but that directly affected students at Rhodes, emphasizing the need to make space for grieving and remembering in a collective way, so that students feel that they are part of a larger whole. A communication strategy that pulls the community together can have dramatic implications for retention and student success.
Session participants offered their own stories of campus-wide efforts to emphasize the collective nature of the student body. One audience question centered on how colleges can keep a handle on "true" accounts of events when social media may offer inaccurate counternarratives. This led to a broader discussion of the importance of developing trust within the campus community.
The collegiate experience gives students a chance to think of themselves as part of a larger whole, and their success in college often depends on the degree to which they are able to do so.
Empirical Evidence Confirms How to Create Learning Communities That Change Lives

Top Takeaways
Transformative results come from focusing on educational practices, not curriculum or setting.
Time and resources must be allocated to supporting transformative practices.
Transformative practices can occur in many kinds of institutions and disciplines.
---
Richard Detweiler, president emeritus of the Great Lakes Colleges Association, presented at both Institutes, sharing research findings published in The Evidence Liberal Arts Needs: Lives of Consequence, Inquiry, and Accomplishment (2021). In a session at the Institute for Chief Academic Officers, he echoed many of the findings long documented in the National Survey of Student Engagement, which were confirmed and enriched by his research into the outcomes of leadership, altruism, lifelong learning, cultural involvement, fulfillment, and success. Together, educational practices that lead to these outcomes define learning communities that change lives.
These practices include making sure that students engage with "nonvocational" content, extended study, and a range of intellectual skills in an educational context characterized by engaging pedagogy and high-impact practices, opportunities to take larger perspectives, and a sense of "authentic community" dedicated to learning and growth for every member.
Detweiler argued that colleges and universities can increase their dedication to these practices that matter by examining what they might stop doing that is less transformative for students. He suggested, for example, that on some campuses the time and energy dedicated to committee work and governance responsibilities can be made more efficient. He further argued that all faculty members must take responsibility for the creation of authentic community, which too often falls upon women and BIPOC faculty and staff members.
Hoyt Links Civic Engagement and Student Well-Being

Top Takeaways
In their support for student mental health, campuses should acknowledge sociopolitical stress, which can contribute to anxiety and negatively influence student achievement.
Civic engagement is associated with feelings of empowerment, of social connection, and of sense of purpose.
Campus leaders can create thriving communities of learning that simultaneously support students' mental well-being and prepare them for active and meaningful civic engagement.
---
In her plenary address on "Civic Engagement and Student Well-being" at the Institute for Chief Academic Officers, Lindsay Till Hoyt highlighted the rising rates of depression and anxiety on college campuses; the impact of recent sociopolitical stresses; ways civic engagement may promote wellness; and steps campus leaders can take to create a more sustainable, equitable state of mental health on their campuses. Hoyt is assistant professor of applied developmental psychology at Fordham University. Her research integrates developmental science and population health, investigating how physiological processes, psychosocial experiences, and environmental contexts interact during adolescence and young adulthood to influence health and health disparities.
After discussing how stress, anxiety, and depression negatively affect student health, academic achievement, and success, Hoyt highlighted findings of recent studies that explore the effects of sociopolitical stress on college students. Hoyt defined sociopolitical stress as "the intense feelings and experiences people have that stem from awareness of, exposure to, or involvement in political events and phenomena, such as elections and social movements." Sociopolitical stress can function in both negative and positive ways, she said. "It can compound with other life stressors and affect students' daily functioning, or it can motivate constructive action and inspire people to connect with others who share similar values."
Although individual and interpersonal stressors may be widely recognized on campus, "sociopolitical stress may fly under the radar of faculty, staff, and leadership," Hoyt said. How can faculty members respond to sociopolitical stress in the classroom? Hoyt remarked that even acknowledging macro-level sociopolitical stressors can help. If faculty members are unable to discuss such an issue with students during class, she suggests they mention it in an email or a posting on Blackboard or Canvas, and send links to relevant resources. If such conversations are facilitated in a way that is inclusive, they can help ensure that students feel seen and that their experiences are acknowledged. Hoyt added that faculty members might also want to plan around sociopolitical events—for example, by not scheduling an exam the day after an election.
And similarly, college and university leaders, faculty members, and staff should acknowledge macro-level stressors through messaging from campus leaders and ensure students have access to counseling services as well as resources for social support and self-care. Hoyt noted that centralized referrals are key: "People know there are counseling centers on campus…but is there one clear phone number or a centralized location where the staff knows where to go for all of this info?" Hoyt added that cross-campus collaboration is critical: "In keeping with the theme of this conference, collaboration will only work if different arms and legs can work well together to solve problems."
Next, Hoyt addressed research on the positive effects of civic engagement. "What if there was a way to simultaneously promote positive development of our individual students, of campuses, and of society? This is what civic engagement does." She described civic engagement as "a multi-dimensional construct that includes attitudes, beliefs, and behaviors—and that it is critical to the positive development of individuals, communities, and democracies." It includes traditional political behaviors (such as voting), community-based civic participation (volunteering), and advocacy or activism (such as protesting or engaging in civil disobedience). Research shows that civic engagement is associated with feelings of empowerment, of social connection, and of sense of purpose. "We found that volunteering and voting were robust predictors of better mental health, fewer risky health behaviors, and higher socioeconomic position in adulthood." Activism was also linked to a higher socioeconomic position, she said, however, they found a positive relationship between activism and substance abuse and other risky behaviors. "Activism can be very stressful—it's a sociopolitical stressor."
She concluded, "All forms of civic engagement can be so empowering and positive for mental health, in the right context with the right supports. What is your university doing? Are you supporting traditional political or civic involvement? Are you teaching civic values?… Are we supporting them?
Senior Leaders Discuss Benefits and Challenges of Civic Engagement Initiatives

Top Takeaways
Civic engagement is vital for students' preparation for leadership in local and national arenas; partnerships with community organizations can help students tackle complex, real-world issues.
Successful civic engagement projects require extensive collaboration between campus departments and community partners; yet the more collaborative the project, the harder it can be to sustain.
Instead of a "parachute service," where students descend on a community for a single day, institutions should use scaffolding to ensure that both students and community members are prepared for collaboration.
---
Collaborations with community partners can not only enrich students' learning but also offer opportunities for personal growth and mental wellness. In a session on "Promoting Students' Civic Engagement," presenters showcased civic engagement initiatives at Chatham University (PA) and Illinois College.
Both institutions emphasize civic engagement as a key part of their curriculum and identity. Jenna Templeton, vice president for academic affairs at Chatham University, presented civic engagement as vital for students' preparation for leadership in local and national arenas. Partnerships with community organizations help students tackle complex, real-world issues and tie into course content on public policy and advocacy. For Catharine O'Connell, dean of the college and provost at Illinois College, the college's location in a small town makes it especially important to partner with local communities for mutual survival as well as for mission fulfillment.
Successful civic engagement projects require extensive collaboration between campus departments and community partners, and the presenters shared what they experienced while building this infrastructure. A snapshot of how a project can expand across the campus was shared by Heather Black, formerly vice president for student affairs at Chatham University and now vice president for student success at Buena Vista University (IA). She explained how a co-curricular leadership program expanded to become the Social Activism Institute (a new course in service, civic work, and social advocacy) by bringing together stakeholders from student affairs, academic departments, and the Pennsylvania Center for Women and Politics on campus. Presenters from Illinois College emphasized the importance of starting with community-based priorities and incorporating academic expertise across disciplines, as "social problems don't neatly organize themselves into disciplinary categories." O'Connell's colleague, Ryan Flynn, director of community-engaged learning at the college, spoke against "parachute service," in which students descend on the community for a single day and then return to campus. Instead, he spoke on the value of "scaffolding" to ensure that both students and community members are fully prepared for the collaboration, with a partnership that begins during the planning process for the course.
The session concluded with a practical discussion of challenges faced during community-engaged learning. Templeton shared how students at Chatham have struggled to engage in productive discourse, especially across difference. To combat this tension, the institution established "intergroup dialogues" with psychology and counseling faculty members to bring people together to grapple for the whole semester on key issues. At Illinois College, Flynn and O'Connell focused on a common issue for community-based and collaborative projects—sustainability. O'Connell predicted, "the more collaborative the project, the harder it is to sustain," as the departure of even one partner can put the whole initiative in jeopardy. She argued, however, that some projects can be fruitful while still having an end-date—for instance, when they no longer provide reciprocal benefits to the college and community partners, when they no longer integrate academic content, or when they become too big of a burden on one collaborator.
The Students Aren't All Right: Supporting Mental Health in a Global Pandemic
Top Takeaways
Campuses can take a multi-level approach to mental health that provides treatment for students diagnosed with mental illness and promotes mental wellness for all students.
Mental illness can be destigmatized by training campus leaders to promote mental health and providing structured opportunities for students to learn strategies for mental well-being.
Campuses may wish to reassess their policies and processes on taking a leave of absence for mental illness.
---
In an advisory issued in December 2021, the U.S. Surgeon General highlighted the "alarming" number of young adults that struggle with depression, feelings of helplessness, and thoughts of suicide, and noted that this crisis has only been exacerbated by the global pandemic. During concurrent sessions at CIC's 2021 Institute for Chief Academic Officers and 2022 Presidents Institute, academic leaders discussed how this crisis has affected their own campuses.
Chief academic and chief student affairs officers participated in an interactive session on strategies to help students maintain strong mental health. Alexander Miller, vice president for student life at Denison University (OH), advised academic leaders to engage students with on-campus resources. He added that Denison faculty and staff members are trained in the various resources available to students and how to connect them with those resources, including off-campus providers when needed. Denison's approach is data-based and will be enhanced by the opening of a new campus wellness center in August 2022. At Ursuline College (OH), a campus-wide wellness initiative aims to help students build resilience and develop stress-management skills. Ursuline's Kathryn LaFontana, vice president for academic affairs, and Deanne Hurley, vice president for student affairs, said that students are encouraged to "create their best self" through online and in-person activities coordinated by the academic affairs, student affairs, and athletics divisions alongside health care professionals and a tele-counseling service. All three presenters also emphasized the importance of helping students develop a sense of belonging to the campus community.
Advice for college and university presidents focused on creating a culture of well-being on campus. In a 2022 Presidents Institute session on "Student Mental Health and Well-being: Considerations for Presidents," Lisa Sontag-Padilla, a behavioral and social scientist from the RAND Corporation, emphasized that student mental health is vital to academic success and that "campus climate matters" for students' mental health. Drawing on recent research, she demonstrated the importance of communicating the institution's values around mental health, as well as promoting available resources. Sontag-Padilla presented a multi-level approach to mental health that would not only provide treatment for students diagnosed with mental illness, but also promote mental wellness for all students. She encouraged presidents to destigmatize mental illness by training campus leadership to promote mental health and providing structured opportunities for students to learn strategies for mental well-being.
Sontag-Padilla also focused especially on policies and processes on taking a leave of absence for mental illness, calling on presidents to create policies that are accessible and financially feasible for students and to clearly lay out not only how to take a leave of absence but also how to return to the institution.
Both sessions provided participants with low-cost, high-impact interventions to take back to campus, but they also offered opportunities to reflect on how current policies and practices support students. As a first step, Sontag-Padilla called on presidents to gather baseline data on mental health on their campuses and to incorporate the voices of students and families impacted by mental health struggles when revising relevant policies. As one participant noted, "we cannot staff our way out of this crisis"; instead, it's vital to build resilience among students and create a campus culture that supports their mental well-being.