New Staff Members
CIC is pleased to introduce staff members who have joined us over the past few months. They will work on a variety of programs and initiatives to serve member institutions.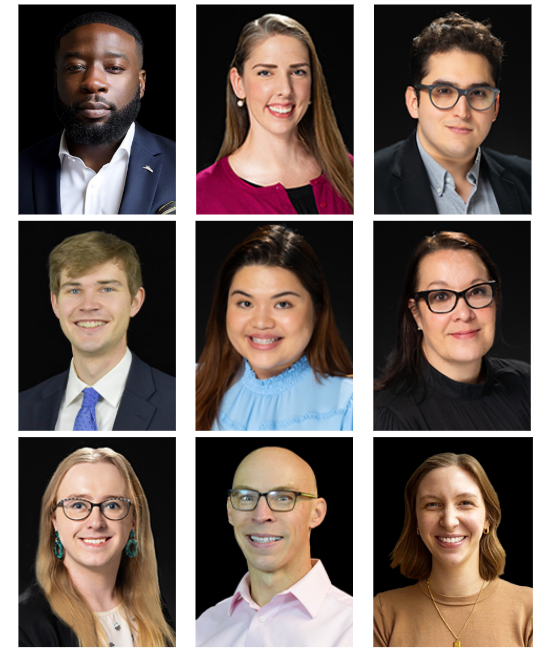 Anthony Burton joined CIC in April 2023 as the project management specialist. He is responsible for providing project management structure and smooth coordination and predictability to CIC. Previously, Burton worked as a project manager at Virginia Commonwealth University. He obtained his bachelor's degree from Virginia State University and his master's degree in project management from Strayer University. He is also a certified scrum master and holds a professional credential in change management from the Association of Change Management Professionals.
Allison Crean joined CIC in October 2022 as the editorial content specialist. In this role, she drafts and edits correspondence, reports, social media posts, and other communications on behalf of CIC. Before joining CIC, Crean worked as a development coordinator in the Office of Principal Gifts in Development and Alumni Relations at Johns Hopkins University, where she was responsible for reporting and stewardship for major donors. Prior to her work at Johns Hopkins, she worked as a teacher at a French immersion school in Maryland. Crean received a BA from American University with a major in elementary education and a minor in French language studies.
Alonso De Los Rios joined CIC in December 2022 and is a conference coordinator. He is responsible for the event registration process, logistics management, and providing client service for each CIC event. Previously, he worked for Strayer University as a faculty support & business development coordinator, as well as a logistics and finance associate for the Biotechnology Innovation Organization (BIO)'s event operations department. De Los Rios studied at Virginia Commonwealth University (VCU) and graduated in 2018 with a business degree in supply chain management and analytics.
Mike Donnelly joined CIC in September 2022 and serves as assistant to the senior vice president of Academic Programs. He supports the day-to-day work of the Academic Programs' Office and contributes to the operation of the Chief Academic Officers Institute. Prior to joining CIC, he served as a litigation paralegal for a Cleveland-based law firm. Donnelly graduated from the University of Virginia in 2020 with a bachelor's degree in English and media studies. During his time at UVA, he served as a mentor for at-risk youth, wrote sports columns for a student-run publication, as well as held an internship with the University's Special Collections Library.
Siena McCabe joined CIC in January 2023 and is a conference coordinator. She is responsible for managing event logistics, handling event registrations, and providing client services and support for CIC events. Prior to joining CIC, McCabe worked within the Office of the Provost at Stockton University, in southern New Jersey. In this role, she provided academic support and event management for several programs and committees that were active across multiple campuses, including Stockton's residential campuses in the Pinelands National Reserve, in Galloway Township, and in Atlantic City. Before becoming a staff member of the university, McCabe earned her bachelor's degree at Stockton, with a major in economics and a double minor in Spanish and business studies.
Suzanne Smith joined CIC in December 2022 and is the designer and visual media specialist. Her responsibilities include conceptualizing, designing, strategizing and producing a wide range of marketing collateral for multichannel platforms; and, as the sole designer on staff, providing creative direction for the organization. Before joining CIC, Smith served as the director of creative services at Shenandoah University. Her experience beyond higher ed includes retail brand marketing and designing for several New York-based magazines including Forbes, SmartMoney, Essence, and CosmoGirl. Smith received a BFA in graphic design from East Carolina University.
Sabrina Sturgeon joined CIC in January 2023 and is the project coordinator for inclusive excellence programs. She manages Belong: An Inclusive Learning Community, which is a first of its kind network in collaboration with the Association of College and University Educators (ACUE). Previously, Sturgeon served as professional development manager at NASPA organizing conferences and workshops. She earned a master's degree in higher education and student affairs at Virginia Tech and a bachelor's degree in communication studies from the University of Southern Indiana.
Matt Trainum joined CIC in September 2022 as the inaugural vice president of networks and strategic partnerships. In this role, Trainum focuses on strengthening CIC's current networks (including the online course sharing consortium, NetVUE, the tuition exchange program, and the State Council Network) and exploring new opportunities for CIC members. Industry partners and CIC members seek out Trainum for discussions around networks and partnerships that advance the collective success of independent higher education. Trainum previously was a senior consultant for strategy at Credo, a higher education consulting firm focused on strategy and student success by transforming student outcomes. Before Credo, he served in multiple leadership roles at The George Washington University and as adjunct faculty at American University. Trainum received a doctorate from GWU in human and organizational learning with a focus on disruptive innovation, and how leadership teams manage through tumultuous change. He also has a master's degree in educational administration from Texas A&M University and a bachelor's degree in history from James Madison University.
Jane Walters joined the CIC staff in March 2023 as a projects coordinator. In this role, she supports academic programs and CIC's Network for Vocation in Undergraduate Education (NetVUE). Prior to joining CIC, she worked as an events coordinator for the children and teens department at Politics and Prose Bookstore. Walters received a bachelor's degree in Greek and Roman Studies from Rhodes College in 2019 and a master's degree in fine and decorative arts and design from Sotheby's Institute of Art in London.
Changes for Staff Members
The following CIC staff members have recently received promotions or title changes:
David Cunningham was promoted to executive director of NetVUE. Previously, he served as director of NetVUE.
Mike Donnelly had a title change to assistant to the senior vice president of Academic Programs and program coordinator.
Susan Jenkins joined CIC as assistant vice president and was promoted to vice president for marketing and communication.
Emilee O'Dell joined the CIC staff as projects coordinator and was promoted to program manager for presidential engagement.
Jason Rivera joined CIC as director of strategic research and was promoted to senior director of strategic research.
Leslie Rogers-Brown was initially hired as administrative assistant. She was promoted to conference coordinator then conference manager before being promoted again to her current position of director of conferences.
Samantha Sabalis was recently promoted to senior director of foundation relations. Previously, she served as director of development.
Lynne Spoelhof was promoted to director of NetVUE operations. Previously, she served as program manager of NetVUE.
Jeff Woods joined CIC as director of presidential engagement and was promoted to vice president for member engagement.
———————————————————————————————————————————————————–
The following staff members have recently announced that they are stepping away from full time work with CIC:
Michelle Friedman made the decision to step away from full time work at CIC effective March 17. Friedman worked at CIC for more than 15 years and managed the planning and logistics for CIC's major Institutes, Presidential Renewal Seminar, and Presidential Vocation and Institutional Mission, and served as the health and safety liaison during the height of the pandemic. She leaves a significant legacy at CIC and will work in a part-time capacity at least through the summer.
Harold "Hal" Hartley began his retirement after CIC's 2023 Presidents Institute, in January 2023. Hartley served CIC for nearly two decades, spearheading the research and benchmarking reports offered to members and overseeing the programming at the annual Presidents Institute for much of that time. Hartley was also instrumental in the formation and growth of NetVUE, seeing the program from its inception through its first 300 members. Hal was honored at the 2023 Presidents Institute
Jo Ellen Parker begins her retirement from CIC effective July 1. Parker worked at CIC for almost five years leading a team focused on membership engagement and communications and developing new CIC programs and services. She brought extensive experience and strategy to this position based on a long career serving the independent sector.