CIC's Belong: An Inclusive Learning Community is well into its first year, and members of the Belong network are confirming that the programming is making a difference on campuses across the country. Faculty and staff are able to put into place actions to achieve tangible results, and the popularity of microcredentials is one way to demonstrate this success.
One of the premiere features of Belong is the opportunity to enroll up to six faculty and staff members in a microcredential course called "Fostering a Culture of Belonging," offered in partnership with the Association of College and University Educators (ACUE). Upon course completion, participants are equipped with new knowledge and actionable practices they can immediately implement to contribute to whole-campus reform and ensure all students and colleagues feel seen, heard, and valued. The coursework for the first cohort has concluded, and the data speaks for itself: course participants come away with stronger beliefs surrounding the topics of inclusionary practice.
Redefining campus roles is essential, but what matters is that those new beliefs lead to real change. The first cohort reported a post-course confidence rating of 85 percent on implementing evidence-based practice (an increase of 43 percent, more than doubling their confidence before taking the course).
The breakdown around specific areas covered in the course is even more impressive.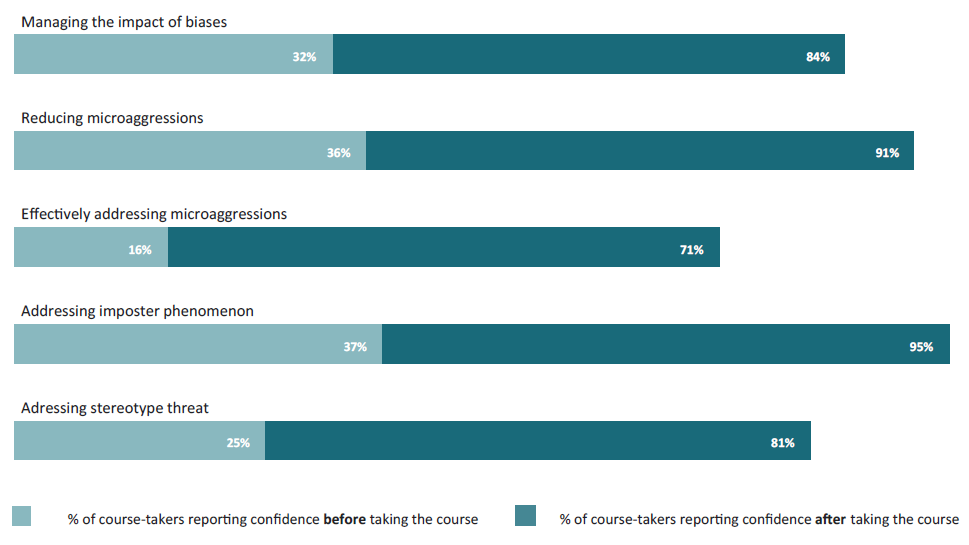 The coursework has concluded for the first Belong cohort and the impact of their education is now being put into practice on campuses across the nation. With each additional member of Belong, our reach and ability to increase student success through inclusive practices grows. As the community continues to grow so will the offerings and support that we are able to provide to campuses. Over 60 institutions joined the inaugural cohort, and registration to join the network is open again for immediate entry in Fall 2023. Reach out to Belong community lead Sabrina Sturgeon at ssturgeon@cic.edu for more information.