This summer, CIC offered two programs devoted to the legacies of American slavery in collaboration with the Gilder Lehrman Center (GLC) for the Study of Slavery, Resistance, and Abolition at Yale University's MacMillan Center. Both programs met on the Yale campus in New Haven, CT, and were part of CIC's larger Legacies of American Slavery: Reckoning with the Past initiative, which is generously funded by the Mellon Foundation. For more information about the larger initiative, visit www.legaciesofslavery.net.
Faculty Seminar
On June 18–22, 2023, faculty members from 20 institutions joined David Blight, Sterling Professor of History at Yale University and director of the GLC, for an intensive research- and teaching-focused seminar. The intensive reading list for the faculty seminar included works of history, literature, and contemporary social analysis. Guest speakers included Yale scholars Daniel HoSang (who discussed the history of the eugenics movement in America), Carolyn Roberts (who discussed the continuing impact of slavery on health disparities by race), and James Forman, Jr. (who discussed crime, race, and mass incarceration).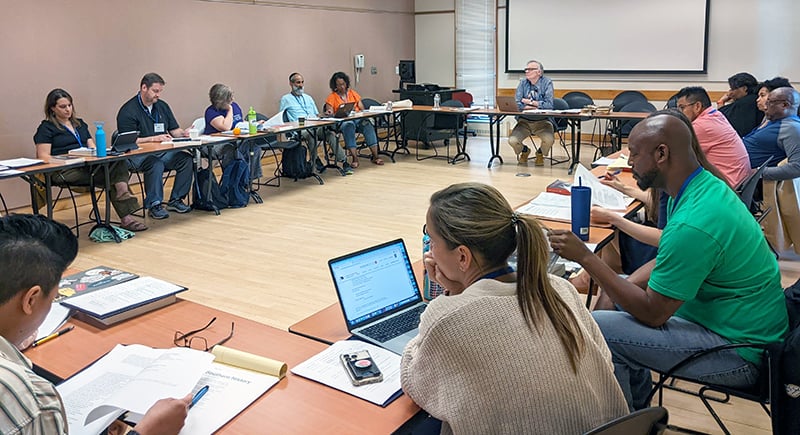 Participants in the faculty seminar came from a range of academic disciplines—including history, literature, African American Studies, political science, religion, and finance—but with a common goal to enhance their teaching about slavery and the afterlives of slavery. Jeffrey Carroll, an associate professor of political science at Chestnut Hill College (PA), observed that "the heaviness of this history is a burden and a responsibility" for teachers at every level. Teresa Gilliams, professor of English at Albright College (PA), added that "[you have to] help students sit with hard history and also understand the appeals—and the limitations of appeals—to social change [in the past and present]."
Public History Institute
On July 30–August 4, 2023, teams from seven other colleges and universities gathered for a Public History Institute that focused on public interpretation(s) of American slavery and the legacies of slavery, with the goal of supporting public-facing projects in each community. Each team included two campus representatives (usually a faculty member or administrator and a librarian) plus a representative from a community-based nonprofit organization.
Participating institutions were selected through a competitive process. Each team brought to New Haven, CT a specific project or plan to engage their campus and community members. Projects ranged from the public interpretation of a 19th Century slave trader's business records from Randolph College (VA) to a program of commemorative plaques marking slavery-related sites in Rhode Island from Roger Williams University (RI) to a re-examination of one college's slaveholding namesakes from Franklin & Marshall College (PA). Two institutions, Capital University (OH) and Fontbonne University (MO), were especially eager to explore new opportunities for undergraduate researchers and interns to work with historic sites.
The Public History Institute program included a mix of seminars, site visits, practical workshops on oral history and project design, and presentations by the seven teams. The Institute was directed by noted public historian Cynthia Copeland (whose credentials include founding president of the Institute for the Exploration of Seneca Village History) and presentations by public historians Cheryl LaRoche, University of Maryland–College Park (MD), Jack Kuo Wei Tchen, Rutgers University–Newark (NJ), and Frank Mitchell, Toni N. and Wendell C. Harp Historical Museum at New Haven's Dixwell Community House).