​Books
Behind the Diversity Numbers: Achieving Racial Equity on Campus
W. Carson Byrd (Harvard Education Press, 2021)
This book reveals how frequently used approaches to examine and understand race-related issues on college campuses can reinforce racism and inequality, rather than combat them. Author W. Carson Byrd argues that educational leaders must look beyond quantitative metrics in order to develop institutional policies and practices that promote racial equality. Using nearly 30 years of data and research, Byrd shows that limiting conversations about racial inequality to numeric representation and outcomes fails to take into account the fact that inequality is also an experience. Quantitative-heavy approaches can turn students into numbers, devaluing their lived experiences of marginalization on campus. Byrd repositions these experiences to better understand how to design effective analytic and policy strategies to promote racial equity and justice in higher education. Behind the Diversity Numbers provides a range of suggestions for institutional change, including how to incorporate racial justice and equity as central components of higher education, especially when analyzing and monitoring data that can inform decision-making and policy-making. Byrd is faculty director of research initiatives in the National Center for Institutional Diversity at the University of Michigan.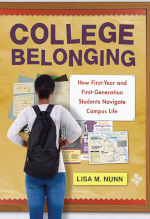 College Belonging: How First-Year and First-Generation Students Navigate Campus Life
Lisa M. Nunn (Rutgers University Press, 2021)
This book shows how efforts by colleges and universities to foster a sense of belonging in their students are often misguided. For instance, when colleges bombard new students with the message to "get out there!" and "find your place" by joining student organizations, sports teams, and clubs, the colleges demonstrate a flawed understanding of what belonging is and how it works. Drawing on the sociological theories of Emile Durkheim, Lisa M. Nunn explains that belonging is something that members of a community offer to each other. Individuals cannot simply walk up to a group or community and demand belonging; it is something that must be given, like a gift. Nunn states that the group must extend a sense of belonging to each and every member. It happens by making a person feel that their presence matters to the group and that they would be missed if they were gone. Nunn describes why "finding your place" is bad advice in particular for first-generation students; how financial aid packages affect students' experiences of belonging; the impacts of "nice" and "not-so-nice" diversity; and the hypocrisy of "white niceness" on college campuses. She offers nine recommendations for campuses to change students' experiences and begin to actively extend belonging in a practical way. Nunn is a professor of sociology at the University of San Diego and director of the university's Center for Educational Excellence.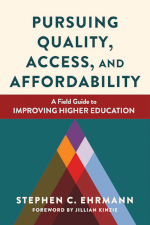 Pursuing Quality, Access, and Affordability: A Field Guide to Improving Higher Education
Stephen C. Ehrmann (Stylus, 2021)
Whether they recognize it or not, virtually all colleges and universities face three "grand challenges," posits author Stephen C. Ehrmann. The first is how to improve the learning outcomes of higher education—many college graduates lack certain capabilities that faculty members and employers both see as crucial. The second is how to extend more equitable access to degrees— too often, students from underserved groups and low-income households either don't enter college or else drop out without a degree. The third grand challenge is how to make academic programs more affordable (in money and time) for students and other stakeholders—many potential students believe they lack the money or time needed for academic success; many faculty members believe they don't have time to make their courses and degree programs more effective; and many institutions believe they can't afford to improve outcomes. The author states that, while these challenges are global, in a higher education system such as that in the United States, the primary response must be institutional. This book analyzes how, over the years, six pioneering colleges and universities have begun to make visible, cumulative progress on all three fronts. Ehrmann is associate professor of educational technology leadership at George Washington University's Graduate School of Education and Human Development.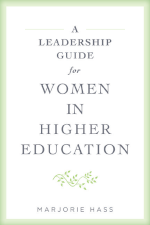 A Leadership Guide for Women in Higher Education
Marjorie Hass (Johns Hopkins University Press, 2021)
Women face unique challenges as they move into senior leadership roles at colleges and universities. This guide by Marjorie Hass, now president of the Council of Independent Colleges and former president of Rhodes College (TN) and Austin College (TX), provides women with the frank, supportive advice they need to advance their careers and lead with excellence. Hass draws on her 16 years of senior leadership experience, her work with national higher education organizations, and her mentorship work with dozens of women to address fundamental issues women face when they lead in higher education. Aiming to level the playing field by giving women the insightful, supportive advice they need to launch, build, and advance their careers and to lead with excellence, this candid guide combines practical information with career coaching. The book addresses a wide range of topics, including how to develop a personal leadership style; become comfortable with power, ambition, and personal voice; navigate patriarchal assumptions; find joy in leadership work; gain experience with budget management, revenue generation, personnel management, and fundraising; and effectively manage conflict.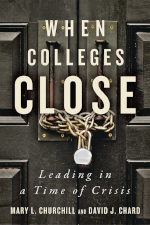 When Colleges Close: Leading in a Time of Crisis
Mary L. Churchill and David J. Chard (Johns Hopkins University Press, 2021)
Wheelock College, founded in 1888, offered undergraduate and graduate programs that prepared students to work in the helping professions, including teaching and social work. But due to declining admissions and increasing debt, Wheelock officially closed and merged with Boston University in 2018, creating the BU Wheelock College of Education and Human Development. Written by David Chard, former president, and Mary Churchill, former vice president for academic affairs of Wheelock College, When Colleges Close describes how the board and administration of the small college, with enrollment of under 1,100 students, determined early that it needed to plan for a future in which it would no longer be viable. In an era when many institutions face difficult financial challenges, this book provides a detailed example of a merger between a small college and a large university with an enrollment of more than 33,000 students, and the many leadership decisions that need to be made as part of the process. The book is written for college and university leaders, as well as for scholars of higher education who are interested in strategic planning. Each chapter includes a series of leadership lessons that readers can consider in light of the Wheelock-BU merger or in their own decision-making.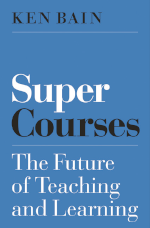 Super Courses: The Future of Teaching and Learning
Ken Bain (Princeton University Press, 2021)
From education expert and author of the bestselling book What the Best College Teachers Do, Ken Bain's Super Courses highlights a new breed of innovative courses that inspire students and improve learning. Decades of research have produced profound insights into how student learning and motivation can be unleashed—but it's not through technology or even the best of lectures. Bain describes how enterprising undergraduate, graduate, and high school teachers are using evidence-based approaches to spark deeper levels of learning, critical thinking, and creativity—whether teaching online, in class, or in the field. Visiting schools across the United States as well as in China and Singapore, Bain and his longtime collaborator, Marsha Marshall Bain, uncover super courses throughout the humanities and sciences. Bain defines these as super courses because they all use powerful researched-based elements to build a "natural critical learning environment" that fosters intrinsic motivation, self- directed learning, and self-reflective reasoning. Super Courses shows teachers how they can build their own super courses and reveals how these classes can help students reach their full potential, equip them to lead happy and productive lives, and meet the world's complex challenges. Bain is president of the research and educational organization Best Teachers Institute; previously, he was the provost and vice president for academic affairs at University of the District of Columbia.
Reports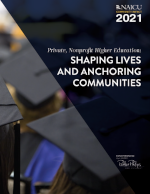 Private, Nonprofit Higher Education: Shaping Lives and Anchoring Communities
National Association of Independent Colleges and Universities (NAICU, April 2021)
This NAICU Community Impact report, using analysis by Parker Philips Inc., finds that, nationwide, private nonprofit colleges and universities generated $591.5 billion in economic impact in 2018–2019 and supported 3.4 million jobs. The report also estimates that over the course of their 40-year careers, the 583,667 bachelor's degree recipients at private nonprofit colleges and universities in 2019 will earn $3.1 trillion, support and sustain a cumulative total of 17.4 million jobs, and generate $382 billion in tax revenue at the local, state, and federal levels. Through extensive research, the report tells the story of the contributions of private nonprofit colleges and universities using both a series of narratives and quantitative data analysis. The focus of the report is on the economic, social, and cultural vitality that is added to communities, regions, and the nation by private nonprofit higher education. Each year, these institutions enroll more than 5 million students and graduate more than 1 million students (in all degree levels) who then enter the workforce or pursue an advanced degree. Within the entire national higher education ecosystem, the private nonprofit sector enrolls nearly 21 percent of students, while conferring nearly 30 percent of bachelor's degrees, 45 percent of master's degrees, and 45 percent doctoral degrees. Read the full NAICU report.
How College Contributes to Workforce Success: Employer Views on What Matters Most
Ashley Finley (Association of American Colleges & Universities [AAC&U], April 2021)
This report presents the findings of AAC&U's seventh survey of employers, which included 496 executives and hiring managers and was conducted in partnership with Hanover Research. The report examines employer views of what constitutes workforce preparedness, the educational outcomes and experiences employers value most when making hiring decisions, and employers' perceptions of recent graduates' ability to succeed in entry-level positions and in later promotion and career advancement. Overall, the report finds that most employers view a liberal arts education as essential to workforce success, but fewer believe that graduates are prepared with the skills and knowledge needed to succeed. For example, only six in ten employers say that recent graduates possess the knowledge and skills needed for success in entry-level positions at their companies or organizations. So, while employers clearly value graduates educated in the liberal arts tradition, their actual experience with job applicants and new hires has shown that not all recent graduates have, in fact, received a liberal arts education. This discrepancy may account for the finding that one in three employers does not have much confidence in higher education (see figure, page 32). Of particular significance at a time of mounting need for higher education to redress racial injustice and other forms of systemic inequity, the survey found evidence of greater recognition of the value of civic skill building and community engagement among younger and more highly educated employers. Read the full AAC&U report.
2021 Survey of College and University Chief Academic Officers
Inside Higher Ed and Hanover Research (April 2021)
Inside Higher Ed partnered with Hanover Research to develop and disseminate this latest survey of provosts and chief academic officers to understand how they view the challenges that U.S. colleges and universities currently face. The survey was answered by 183 CAOs (83 of whom are from private nonprofit colleges and universities) in February and March of 2021. Among the key findings, CAOs indicated that the quality of their offerings during the fall semester was lower than in semesters before the pandemic. Still, most indicated that the quality of their courses remained good. Institutions will likely offer more hybrid and online courses after the pandemic than they did before. About one in four CAOs reported that their institution had to cut faculty positions during the pandemic. The positions that they most often cut were adjunct faculty (67 percent), followed by tenure-track faculty (not yet tenured) (19 percent). Significantly more CAOs from private colleges and universities (33 percent) compared with public institutions (4 percent) reported that the humanities were disproportionately affected when eliminating faculty slots. The survey also touched on opportunities for improvement in faculty engagement and professional development, changes to policies as a result of recent attention to longstanding structural racism in the United States, and planned allocation of academic funding. Read the full Inside Higher Ed report.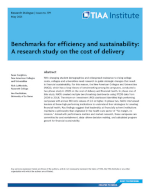 Benchmarks for Efficiency and Sustainability: A Research Study on the Cost of Delivery
Sean Creighton, Nick LaMendola, and Avo Kechichian (New American Colleges and Universities, supported by TIAA Institute, May 2021)
With rising tuition costs under scrutiny, colleges are minimizing annual tuition increases while boosting financial aid packages, straining an already fragile business model. This study attempts to determine whether there is a common set of core strategies leading to financial sustainability at campuses that belong to the New American Colleges and Universities (NACU), a consortium of more than 20 small to medium-sized independent institutions. The researchers document several examples of NACU institutions that consistently increased their annual return on investment. They found that presidents of high- performing campuses typically exercise centralized, data-driven decision-making and vigilant oversight of all financial matters. They also rely on performance-based and data-informed metrics to find ways to increase efficiencies, especially with regard to staffing realignment and cost of instruction. These presidents are willing to make unpopular decisions, while maintaining full transparency, if data show it will benefit the institution. High- performing campuses are expanding in high-demand areas— including graduate, noncredit and online programs—and they reward people who work hard for the benefit of the institution. The researchers used IPEDS data from 2008 to 2018 to develop and analyze benchmarking dashboards and interviewed leaders at campuses with high return-on-investment ratios. Read the full NACU report.
Equitable Value: Promoting Economic Mobility and Social Justice through Postsecondary Education
Postsecondary Value Commission (May 2021)
This Postsecondary Value Commission report, written by Institute for Higher Education Policy and Bill & Melinda Gates Foundation staff, discusses wide-ranging disparities in the value of a postsecondary education in the U.S., in terms of race, income, and gender. The report then explores how to transform the higher education system to make it more student-centered and deliver on the promise of equitable opportunity. An action agenda aims to inspire key postsecondary actors at the federal, state, and institutional levels to rethink existing policies and practices. For example, policies on equitable admissions, robust need-based financial aid, and an improved postsecondary data system can help students achieve economic mobility, by ensuring that students have equitable access to degrees and credentials of value and programs of study that align with their goals, their interests, and workforce demands. The foundation hopes that an "equitable value movement will play a key role over the next decade in rebuilding a postsecondary system centered on ensuring equitable value for Black, Latinx, Indigenous, and AAPI students, students from low-income backgrounds, and women, and reimagining our postsecondary system as an instrument to create a stronger and more just society together." Read the full Commission report.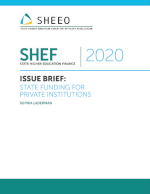 State Funding for Private Institutions
Sophia Laderman (State Higher Education Executive Officers Association [SHEEO], May 2021)
This issue brief provides an overview of how state funding for general operating and financial aid to private institutions has changed over time. In general, it finds that state support for private institutions has declined at a steeper rate than state support for public institutions. For example, while unadjusted total state funding for private institutions has increased by about $600 million since 2001, this increase has not kept up with inflation or enrollment growth at private institutions. In fiscal year 2020, state governments provided $2.7 billion in support to private institutions or $563 per full-time equivalent (FTE) enrolled student. In comparison, state governments provided $93.5 billion or $8,436 per FTE in support to public institutions in 2020. Funding for private institutions represents 2.8 percent of total state support for all higher education, down from 3.4 percent in 2001 (the earliest year for which these data are available). The brief emphasizes that although states do not have the same kind of statutory obligation to fund private institutions as they do public institutions, decreases in state funding for private institutions should be important considerations in conversations about financial pressures and enrollment declines facing private institutions in the wake of the COVID-19 pandemic and ensuing economic recession. Read the full SHEEO report.