CIC is pleased to announce three new resources to help member colleges and universities explore, teach, and address the multiple legacies of slavery in American life. Members can view a virtual symposium tackling issues of memory and teaching; consult a resource database featuring ongoing work from member institutions; and subscribe to a new blog sharing current information about CIC's Legacies of American Slavery initiative.
Legacies of American Slavery: Reckoning with the Past is a multiyear CIC initiative launched in 2019 with a major grant from the Mellon Foundation. The initiative is directed in collaboration with the Gilder Lehrman Center for the Study of Slavery, Resistance, and Abolition (GLC) at the MacMillan Center at Yale University, headed by prominent historian David Blight. Seven CIC member institutions serve as Regional Collaboration Partners, coordinating regional and national activities around central themes related to the legacy of slavery.
Virtual Symposium Tackles Issues of Memory and Teaching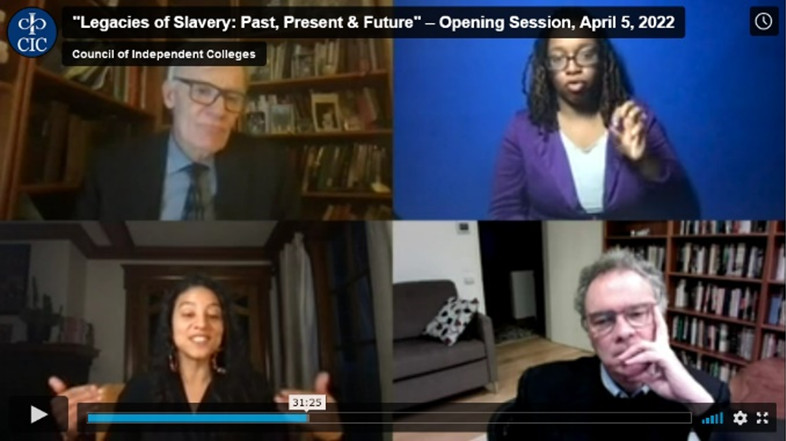 On April 5–7, 2022, CIC hosted a virtual symposium on the "Legacies of Slavery: Past, Present & Future" that attracted more than 800 participants. The opening panel featured three leading scholars of race and slavery in the public culture of the United States: historian David Blight (Yale University), historian Edward Ayers (president emeritus of the University of Richmond, VA), and legal scholar Elizabeth Hinton (Yale Law School). Both Hinton and Ayers—one a Black woman from the Midwest, the other a White man from the South—described themselves as "living remnants of slavery," given the persistent influence of slavery on American culture, politics, and society. As educators, Hinton concluded, "[we] owe something to this country…to make sure that we know the truth about what happened and to make sure that we understand the various systems that have maintained inequality, racial class, gender over time—and that's why I became a historian."
Three other sessions highlighted activities at the seven Regional Collaboration Partners (see below) and other CIC member institutions to reckon with slavery through teaching, research, and community engagement. The closing session explored the challenge of teaching about slavery and race relations in the face of public resistance and featured historian Kevin Gannon (Grand View University, IA) and education scholar Sonya Douglass Horsford (Teachers College, Columbia University). "In addition to negotiating the political and social contexts that surround schools," said Horsford, we have to understand that "what we teach [can be] emotional and passionate.… There really are different visions of education and [different] visions of America." Gannon also focused on a specific challenge facing many CIC institutions: How do you "do curriculum through an equity, anti-racist lens at a predominantly white institution, [with a] faculty and staff that values the ideas of justice and equity but doesn't necessarily embody them" in their own racial diversity?
Resource Database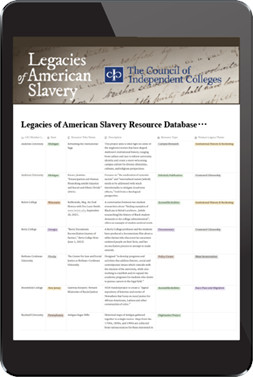 Many CIC member colleges and universities are reckoning with the legacies of slavery through original research, historic or archival preservation, teaching and learning, and public engagement. CIC has developed an online resource database to share some of this ongoing work. The database is searchable by institution, legacy theme, resource type, and other variables. It is not a comprehensive list of resources or initiatives; instead, the database is a sampling of various efforts by independent colleges to engage students and the public in the essential work of understanding the continuing impacts of American slavery. CIC is eager to make the database more comprehensive through crowd-sourcing—so please let us know about other resources by contacting LegaciesProject@cic.edu.
New Blog
This summer, CIC launched a microsite and blog at www.legaciesofslavery.net that provides a convenient gateway to the resource database and the virtual symposium. The blog includes curated digests of recent weblinks related to the legacies of slavery; video clips of scholars and public intellectuals; news about recent events (such as a seminar for CIC faculty members that met at Yale this summer); and reflections on the afterlives of slavery. The blog does not allow public comments, but feedback and suggestions for future posts are welcome. Please contact the editors at LegaciesProject@cic.edu.
Activities of Regional Collaboration Partners
In late 2020, CIC selected seven member institutions as Regional Collaboration Partners to serve as organizing hubs for a network of CIC members and their community-based collaborators. The Partners spent the 2021–2022 academic year developing a range of initiatives in the areas of curricular development, student and faculty research, and public engagement. These included:
Austin College (TX) launched a faculty/student research project to map the history of the Black business district of Sherman, TX, which was destroyed in a 1930 race riot; this will become part of an online archive. A faculty development workshop modeled best practice in incorporating the theme of "racial violence and resistance" into courses ranging from ¬-anthropology to leadership studies.

Centenary College of Louisiana developed new undergraduate courses for future healthcare professional devoted to environmental racism, health disparities, and implicit bias. Participating departments include ecology, biology, and philosophy.

Faculty members and student filmmakers at Dillard University (LA) produced a series of short documentaries on the impact of slavery on local foodways, tourism, and music featuring interviews with cultural leaders in the New Orleans area.

Huston-Tillotson University (TX) launched faculty research initiatives on the history of segregation in Austin (in collaboration with city officials) and on environmental racism, as well as student/faculty research project on the connection between air quality and COVID-19 outcomes for children of color.

At Lewis University (IL), faculty members from at least five departments developed new courses and/or research projects. Lewis also launched a community memory project in Fairmont and Joliet, IL, to collect oral histories and archival materials related to the local experiences of race, place, migration, and mass incarceration.

Meredith College (NC) launched two components of a comprehensive "Voices of Change Project": a non-partisan institute designed to encourage and support political office-holding by Black women and women of color and an oral history project that has already engaged faculty members and students from several other CIC member institutions.

The Locating Slavery's Legacies project from Sewanee: The University of the South (TN) is designed to be "a central database for the collection and dissemination of information about memorials and monuments located on college campuses and dedicated to enslavers, Confederates, or promoters of the Lost Cause." Planning included collaborators from Elon University (NC) and Wofford College (SC) as well as the Atlanta History Center.