Books
Leadership Matters: Confronting the Hard Choices Facing Higher Education
W. Joseph King and Brian C. Mitchell (Johns Hopkins University Press, 2022)

W. Joseph King and Brian Mitchell bring their years of experience as institutional leaders to explore the types of leaders needed in modern higher education. Suggestions are offered to help presidents, provosts, and board chairs manage the interconnected and complex world that all higher education institutions must now navigate. Through the understanding of high-quality data by supportive teams, difficult but necessary decisions can be made to strengthen the long-term viability of the institution. The authors argue that higher education leaders must not simply help their institutions to survive but must boldly claim their institution's place in the broader society as an influencer and creator of engaged, knowledgeable, and critically thinking citizens.
The Real World of College: What Higher Education Is and What It Can Be
Wendy Fischman and Howard Gardner (MIT Press, 2022)

This book offers key insights from an extensive series of interviews with incoming students, graduating students, alumni, faculty, administrators, parents, and job recruiters about what students really think about higher education. Results contradict much of the media coverage that suggests that cost, political correctness, and free speech are top of mind for students. Instead, things like GPA and post-education outcomes are much more of a concern. The authors note that a universal finding across students is how much mental health is a challenge on campuses and how isolated many students feel when they lack a sense of belonging. The authors offer guidance for higher education leaders to embrace their institutions' missions fully and work to not only deeply integrate these missions across the curriculum and student experience, but also ensure students understand the mission from the very beginning of their relationship with the institution. The goal is to create a community of learners who are open and welcome change in their lives, not singularly focused on some tangible but fleeting outcome.
Reports
2022 Survey of College and University Chief Academic Officers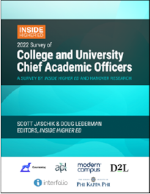 Scott Jaschik and Doug Lederman, editors (Inside Higher Ed and Hanover Research, May 2022)

The 12th annual survey from Inside Higher Ed examined the state of affairs for provosts and chief academic officers at the end of the pandemic period and beginning of a period of recession. Hanover Research conducted the study, which yielded 178 respondents between March and April 2022. Results indicated growing concern for mental health for faculty and staff as well as for students. Most provosts (89 percent) hold a positive view toward liberal arts education. Additionally, they see it as central to undergraduate and professional education. However, 88 percent also felt that the concept of a liberal arts education is not well understood by the general public in the United States.
2022 Survey of College and University Business Officers
Scott Jaschik and Doug Lederman, editors (Inside Higher Ed and Hanover Research, July 2022)

Inside Higher Ed produced the 12th annual report on college and university business officers. Hanover Research conducted the study, which yielded 238 responses between May and June of 2022. The research was focused on how chief business officers view the challenges currently facing higher education. Results indicate that 67 percent of business officers think their institutions are in a better financial position currently than in 2019. The primary reason given for this improvement is the influx of money from the American Rescue Plan. However, only 42 percent of business officers expect their institution to be in a better financial position a year from now. This is mainly due to concerns about inflation and the ending of federal recovery funds.
Report on the Condition of Education 2022
(National Center for Education Statistics [NCES], May 2022)

NCES produced its annual Report on the Condition of Education in May, which focused heavily on the impacts of post-pandemic pressures across all sectors of education. Key findings related to postsecondary education showed that undergraduate enrollment had already been in decline (5 percent decrease from 2009 to 2019). However, during the pandemic, between 2019 and 2020, undergraduate enrollment declined by another 4 percent. In more positive trends for postsecondary education, families with an adult planning to take postsecondary courses in the household were more likely to show no change in their plans in 2020 (44 percent) compared with such families in 2019 (28 percent). This demonstrates that pandemic-related pressures are having less impact on adults' decisions to take postsecondary courses.