The Council of Independent Colleges (CIC) and Interfaith America (IA) are pleased to announce a multidisciplinary seminar on Teaching Interfaith Understanding for full-time faculty members at CIC member colleges and universities. The seminar will broaden faculty members' knowledge and perspective to help them strengthen the teaching of interfaith understanding, develop new courses and other resources, and expand the network of faculty members who are committed to teaching this subject. The seminar, offered by CIC and IA and generously supported by a grant from Lilly Endowment Inc., will cover most costs of participation for those faculty members who are selected.
Religious diversity, along with contestations of religious belonging, pluralism, and inclusion, has become an increasingly fraught topic in American public discourse and public life, even as American campuses have become more religiously diverse. Undergraduate students—regardless of their academic field, religious background, or demographic identity—need to make space for reflection on questions of meaning, purpose, and values, and to consider the significance of their own narratives, beliefs, and practices. On many campuses, interfaith activities are expanding, drawing increased attention from students, campus staff and administrators, and faculty members. The 2023 seminar will examine how interfaith understanding can be taught effectively in the college classroom so that students are equipped for interfaith engagement and leadership both in the classroom and beyond.

Although some scholars—primarily those within the fields of comparative religion or comparative theology—have addressed such topics for years, many faculty members in the humanities are seeking new ways to connect their expertise with efforts to foster religious pluralism. There also is increasing interest in these topics from faculty members in fields such as education, health care, and business in which the challenges of religious diversity will have an impact on students' vocational aspirations and postgraduate professions. Arguably, education on such topics is critical not only to counter religious illiteracy and insensitivity, but also to prepare students for civic responsibility in a religiously diverse world. These objectives raise significant pedagogical and methodological questions for faculty members. How might faculty members within religious studies, as well as those in other fields with practical or theoretical connections to questions of interfaith cooperation, apply these ideas to their own courses? What pitfalls may arise for faculty members who broach the sensitive topics of religious identity and diversity within an academic classroom? How can faculty members effectively connect curricular and co-curricular interfaith work? What should a student know after taking a course about interfaith understanding, and how can that learning be assessed?
This seminar, led by Laurie Patton, president of Middlebury College, and Eboo Patel, founder and president of Interfaith America, will examine the substantial theoretical questions inherent in teaching interfaith understanding and explore the practical work of translating these ideas into courses. Participating faculty members will have opportunities to develop teaching resources such as syllabi and course modules that may be shared online with colleagues at many other institutions. Each day, the seminar will focus on a particular dimension of interfaith understanding—such as models of interfaith collaboration and pedagogies for teaching interfaith cooperation—and will include both theoretical and applied work. The seminar will blend discussions of case studies and syllabi, primary texts and scholarly readings, and experiential activities such as site visits.
Online Resource Library
Interfaith America maintains a curated library of interfaith-focused syllabi, course activities, teaching tactics, and other resources including examples created by participants of previous Teaching Interfaith Understanding seminars. Many of these resources were created by faculty members as direct results of their participation in the seminars; others are resources these scholars have used for years in their teaching. All resources are shared with permission from the authors.
Workshop Leaders
Eboo Patel is a leading voice in the movement for interfaith cooperation and the founder and president of Interfaith America, a national nonprofit organization working to make interfaith cooperation a social norm. He is the author of Acts of Faith, Sacred Ground, Interfaith Leadership, and the newly released Out of Many Faiths. Named by U.S. News & World Report as one of America's Best Leaders of 2009, Patel served on President Obama's Inaugural Faith Council. He is a regular contributor to the public conversation about religion in America and a frequent speaker on religious pluralism. He holds a doctorate in the sociology of religion from Oxford University, where he studied on a Rhodes scholarship. For over 15 years, Patel has worked with governments, social sector organizations, and colleges and universities to help realize a future where religion is a bridge of cooperation rather than a barrier of division.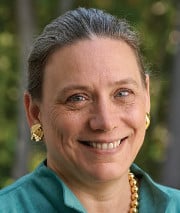 Laurie Patton is the 17th president of Middlebury College, and the first woman to lead the institution in its 217-year history. She joined Middlebury in 2015, after serving as Duke University's dean of Trinity College of Arts and Sciences and Robert F. Durden Professor of Religion. From 1996 to 2011, Patton served on the faculty and administration at Emory University, where she was the Charles Howard Candler Professor of Religions and the inaugural director of Emory's Center for Faculty Development and Excellence in the Office of the Provost. She began her career at Bard College, where she was assistant professor of Asian religions from 1991 to 1996. Patton is the author or editor of nine books on South Asian history, culture, and religion. In addition, she has translated the classical Sanskrit text, The Bhagavad Gita, and has published two books of poetry. Patton has lectured widely on interfaith issues and religion and public life, and she has consulted with the White House offices on faith-based initiatives and civic engagement. In May 2014, she was named Alumna of the Year at the University of Chicago Divinity School. She is a graduate of Harvard University and the University of Chicago.
Current Status
Participants are selected by competitive nomination. Lodging, most meals, and reading materials are typically provided, thanks to generous support from Lilly Endowment Inc. Participants or their institutions are expected to cover transportation to and from the seminar location. Please note the seminar dates have changed since the original announcement. The seminar will now be held June 18-22, 2023.
Selection of participants will be announced by Friday, February 24, 2023.
Contact Information
​​​If you have any questions or comments please contact Stephen Gibson, CIC's director of programs, at sgibson@cic.edu or (202) 466-7230.