Your One Stop Title IX Solution
Student Ally is a comprehensive compliance and safety platform designed to protect colleges from the single biggest liability in higher education – sexual misconduct claims – which cost schools over $1.5 billion in settlements last year alone.
Developed in collaboration with independent colleges, Student Ally was built so that even an "office of one" can seamlessly manage compliance, promote student engagement, resolve complaints and mitigate risk.
Exclusive CIC Member Benefits
FREE Student Training
Explore Student Ally before you commit, with your first year's access to state-of-the-art student training/orientation on us. (A $10,000+ value.)
Title IX Compliance Audits
Limited $2,500 pricing on "End-to-End" Title IX and student safety audits, just in time for 2024 federal compliance changes. (Limited Time & Availability). Additional audits are capped at a discounted $4,500 pricing.
Full Title IX Compliance Solution
Student Ally is excited to provide a 60%+ reduction on compliance services and student app, and will guarantee this discounted rate for three years to CIC members. CIC members get contractually guaranteed "best discount pricing" on the full scope of Student Ally products and services.
Everything You Need in One Integrated, Flexible, Easy-to-Use Platform
Integrated for Efficiency
An end-to-end platform lets you eliminate multiple systems and streamline processes.
Modular for Convenience
Don't need it all? Pick just the modules you need and enjoy maximum flexibility.
Integrated Compliance with Student Ally's ComplianceOS™
Address Historic Title IX Volatility: It's no secret that Title IX has become something of a political football. There have been more Title IX changes in the last 5 years than in the prior 50. With another round of comprehensive reforms proposed for 2024, colleges need a way off the Title IX rollercoaster.
Avoid Record Title IX Liabilities: Year after year, Title IX is the single biggest liability in higher education. In 2022 alone, Title IX/sexual misconduct accounted for 1/3rd of all major educational losses, with over $1.5 BILLION in liabilities. Read the 2023 Large Loss Report (PDF).
Reduce Workloads and Improve Performance with a Compliance Operating System: ComplianceOS™ was developed in collaboration with independent colleges. Designed to be easily operated by even an "office of one," ComplianceOS™ integrates tools and automations to reduce training time, improve efficiency, and expand your staff's performance.
Auto-Updating Codes & Procedures mean you never have to worry about a Title IX change again.
Built-In Procedural Forms streamline compliance while simultaneously ensuring documentation.
Digital Compliance Checklists integrate step-by-step instructions directly into your staff's case management platform, so you never miss a step.
Advanced Case Management automates data-entry, streamlines evidence collection, and logs case activity to auto document compliance, every time.
Customizable and Expandable for Your Title VII, HR, and Non Title-IX Conduct Needs: Built to support flexible compliance needs, our open design lets you create your own case types and checklists so you can leverage ComplianceOS™ campus wide.
Student Training
Student orientation is your school's best opportunity to prevent assaults. It's also students' first impression of how seriously their community views the issues of consent, safety, and sexual violence. Unfortunately, most training programs fall short. A 2023 research study by It's On Us revealed students found their schools' training "boring and ineffective" with a "one-size-fits-all" approach that was "not realistic of campus life." Read the Research Study (PDF).
That's why Student Ally worked directly with students to develop our EmpowerED Training Series.
Modern, Authentic, & 300% More Engaging
By breaking concepts down into 5-minute "micro-chapters," we develop targeted skills for improved safety, communication, and understanding.
Integrated Quizzes Ensure Retention
Customizable quizzes after each micro-chapter provide gamification and incentives so students remember what matters.
Detailed Analytics
With detailed analytics on student performance, schools can target resources on verifiable areas for improvement.
Customized to Resonate with YOUR Students
Our videos are customized to match your school's branding, and our open platform allows you to integrate and deliver your own custom content.
CIC Member Exclusive
Our Training Series Covers
Title IX
Communication
Alcohol
Bystander Intervention
Consent
Trauma Informed
Safety
Reporting & Resources
Safety
Safety is parent's #1 issue when evaluating colleges. Read the Niche Report. That's why Student Ally integrated the most robust student safety platform right into the same technology your students use to complete orientation.
A Social Network that Empowers Students
By onboarding students during orientation, we create a social network with tools for safety, support, and the collaboration they need.
Seamlessly Connect With Campus Security
Our Campus Security Connect portal lets students instantly share tips, GPS alerts, and speeds response time and support.
Broadcast Alerts
Coordinate community-wide responses to any emergency, active shooter, or weather event, with built-in broadcast alerts.
Evidence Preservation
Lack of evidence is the single biggest hurdle in resolving Title IX complaints, and one of the leading drivers of litigation. Student Ally's first-of-its-kind evidence preservation software was developed in partnership with legal experts and sexual assault investigators to dramatically improve your schools' ability to respond and resolve sexual assault allegations.
Instantly Establish Timelines
Locate Camera Footage
Authenticate Biometrics
Validate Witness Accounts.
Reduce Trauma & Eliminate Litigation
Faster resolutions supported by facts minimize trauma & reduce Title IX liabilities.
Support Survivors
Empower survivors with the tools they need to seamlessly capture and submit evidence.
Protect Respondents
Empower respondents to present their side and address mistaken claims or
100% Private to Protect Student Rights & Control
Only students get to decide when or if to share their information.
Proprietary 4th & 5th Amendment Protection
Our proprietary "Data Lock Out" system, protects students' 4th and 5th amendment rights.
Integrated Reporting & Resources
The biggest Title IX liabilities result from class action lawsuits involving campus cultures where sexual assaults go unreported and unaddressed. With reporting built right into the same technology students use for safety and orientation, Student Ally helps your staff meet survivors where they are.
Survivors Report On Their Terms
With reporting built in, survivors can seamlessly report and submit evidence from the comfort of their own space.
Flexible Reporting for Multiple Compliance Needs
Flexible formal, informal, and anonymous reports support multiple reporting needs and ensure you can provide staff and students the support they need.
Auto-Populate in Case Management
Reports instantly populate in your case management platform, with data entry, evidence collection, and party identification streamlined and easier than ever.
Investigations & On-Demand Support
While some schools need teams of investigators on staff 24/7, others may need only occasional investigative support every couple of years. Student Ally was designed to support both, so you can adopt the approach that's best suited to your staff and resources.
Investigative Tools Empower Your Staff
Every procedural step, data point, and piece of evidence – logged, tracked, & consolidated in a single interface.
Shared Interface Allows for Collaboration
Assign and manage investigators remotely or request a trained Student Ally investigator to work side-by-side with your team.
On Demand Investigative Support
Whether you need occasional intake assistance, overflow support, or full-time help, Student Ally's platform allows our trained investigators to collaborate with your internal staff, while ensuring you still maintain 100% transparency and control.
Reporting Made Easy
With infinitely flexible data points, you can instantly generate customizable reports, Clery filings, and insurance updates.
Feature Highlight
With Automatic User Integration, Investigators Get Information Faster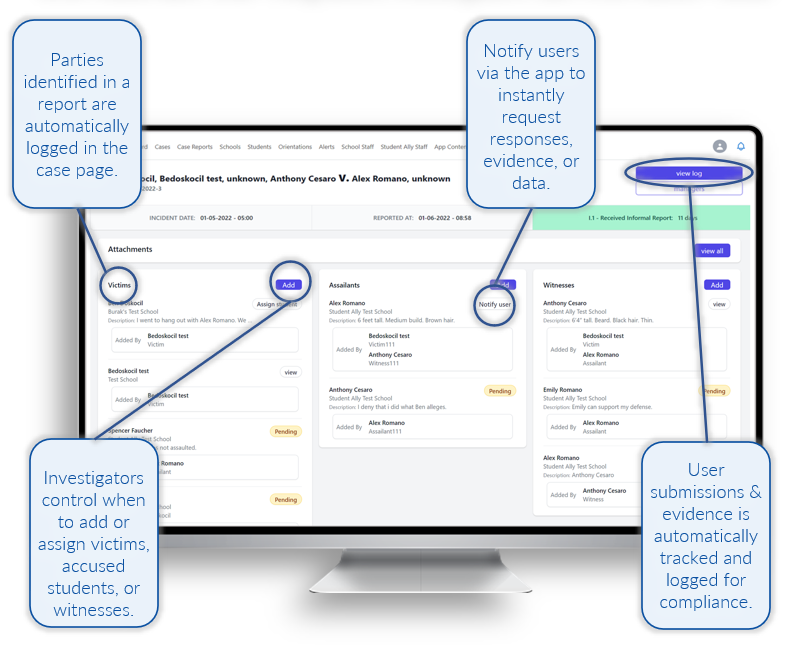 Title IX Compliance Audits (Exclusively for CIC Members)
Limited $2,500 pricing on "End-to-End" Title IX and student safety audits, just in time for 2024 federal compliance changes (Limited Time & Availability). Additional audits are capped at a discounted $4,500 pricing.
A free-standing audit: You do not have to engage in any other service to take advantage of the audit.
Review of current campus state: Analysis of current Title IX processes, resources, support, and community engagement strategies.
Impact of new federal regulations: Analysis of 2023 Title IX regulation's updates on institution's current practices.
Multiple focus groups: Three separate virtual focus groups: a student focus group, a faculty/staff focus group, and a Title IX staff focus group all to evaluate current Title IX processes, challenges, feedback and concerns.
Deliverable of value: Production and delivery of "Title IX Audit Report" that will outline current approach, impact of changes in federal law, and recommendations on best practices in line with school's stated priorities