Entering the third or fourth year of service, chief academic officers usually have mastered the fundamentals of the role. At this stage, CAOs discover greater opportunities to lead rather than simply manage. What are the key questions CAOs can and should address at this stage in their careers? For example, how do CAOs balance attention to their institutions' immediate issues with a focus on their long-term academic needs? How can CAOs attend to their own professional lives while also serving their institutions? How do CAOs work effectively with the president and other cabinet officers on strategic planning? Participants will explore these and related questions and gain fresh perspective on the next stage of their careers as CAOs.
Workshops require pre-registration as space is limited. The registration fee covers materials, meals, and refreshments. To add a workshop to an existing Institute registration, please contact conferences@cic.edu. Fees: early rate $100 (by September 2); regular rate $150 (after September 2)
Workshop Coordinators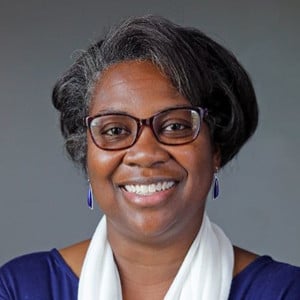 Anita Jones Thomas
President, North Central College (IL); Former Executive Vice President and Provost, St. Catherine University (MN)
Anita Jones Thomas is the former executive vice president and provost at St. Catherine University. She has recently become the 11th president of North Central College. In her role as the chief academic officer, Thomas created and led the implementation of St. Catherine's first Academic Master Plan that supports the university's strategic plan. Thomas has more than 20 years of experience in academia, both as a faculty member and an administrator. Her research interests include racial identity, identity socialization, and using culturally affirming counseling approaches with African American families. She has conducted training seminars and workshops on multicultural issues for state and national professional organizations in counseling and psychology, hospitals and corporations, and human service organizations.
John D. Kolander
Provost, Wisconsin Lutheran College (WI)
John D. Kolander, provost of Wisconsin Lutheran College, has served as the college's chief academic officer since 2004. Previously, he was a teacher and administrator for Lutheran elementary and high schools in Wisconsin and Minnesota. Kolander's research interests include campus and organization culture, curriculum development, and leadership development. He is a frequent presenter at CIC's Workshops for Department and Division Chairs and Institute for Chief Academic Officers and received the CIC Chief Academic Officer Award in 2018.
Workshop Facilitators
Daryll Coleman, Vice President for Academic Affairs, Lane College (TN)
Peter Holbrook, Provost and Chief Academic Officer, Tiffin University (OH)
Karen Lee, Provost, Wheaton College (IL)
Robert Murray, Provost and Vice President for Academic Affairs, St. Thomas Aquinas College (NY)
Aimee Sapp, Vice President for Academic Affairs, William Woods College (MO)
Workshop Schedule
7:15–8:00 a.m.
Breakfast
8:00–8:10 a.m.
Welcome
Jonnie G. Guerra, Senior Advisor, CIC
8:10–8:20 a.m.
Introductions
We will have participants introduce themselves in a lightning round.
8:20–9:00 a.m.
Higher Education Today
Anita Thomas and John Kolander
9:00–10:00 a.m.
The CAO as Cultural Architect: Opportunities in Leadership
John Kolander
10:00–10:15 a.m.
Break
10:15–11:30 a.m.
Point/Counterpoint:
What does the Provost wish the President would remember?
What does the President wish the Provost would remember?
Anita Thomas and John Kolander
11:30 a.m.–12:30 p.m.
Lunch
12:30–1:30 p.m.
Vision and Strategy in Times of Change
Anita Thomas
1:30–1:45 p.m.
Break
1:45–2:45 p.m.
"It's Alright": Finding Fulfillment as a CAO
John Kolander
2:45–3:00 p.m.
What Did We Miss? What's Keeping You Up at Night?
A wrap-up discussion with all participants and facilitators around pressing issues.
3:00 p.m.
Adjournment