Leaders of independent colleges and universities gathered for two annual Institutes in recent months: CIC's 2022 Presidents Institute and the 2021 Institute for Chief Academic Officers, with Chief Student Affairs and Chief Diversity Officers. As CIC returned to in-person programming, both Institutes were designed to support campus leadership, advance institutional excellence, and stimulate fellowship, renewal, and inspiration. The events adhered to careful measures to protect the health and safety of all participants during the COVID-19 pandemic.
Presidents Institute
The Presidents Institute was held January 4–7, 2022, at the JW Marriott Marco Island hotel in Marco Island, Florida. The Institute's theme, "Recovery, Reckoning, Reinvention," reflected the unprecedented conditions colleges and universities have confronted during the global pandemic, including tightening economic constraints, repeated instances of racial injustice, increasing economic inequality, and shifting demographic patterns.
Among the four plenary sessions, two leading public intellectuals delivered addresses on the relationship between higher education and democratic citizenship. Khalil Gibran Muhammad, Ford Foundation Professor of History, Race, and Public Policy at Harvard Kennedy School, challenged participants to consider the essential importance of addressing structural racism as a necessary step toward a stronger democracy. And Ronald J. Daniels, president of Johns Hopkins University, emphasized the essential role of higher education for any healthy democracy. His book, What Universities Owe Democracy (2021), lays out the case for greater leadership from higher education in preparing citizens for democratic engagement. The third plenary session, on "The Future of the Independent College Presidency," featured a panel of distinguished presidents, including Debbie Cottrell of Texas Lutheran University, Isiaah Crawford of University of Puget Sound (WA), and Charles W. "Chip" Pollard of John Brown University (AR), as well as moderator Marjorie Hass, president of CIC. The panelists considered how the presidency has been changing due to external and internal pressures that were accelerated by the pandemic and reflected personally on the opportunities and challenges of the moment. In the closing session,"Preserve and Advance: The Policy Agenda for Independent Higher Education," Barbara K. Mistick, president of the National Association of Independent Colleges and Universities, and Hass discussed how politics and policy affect the independent sector and the impact presidents and other higher education leaders can have on legislative agendas.
The plenary address delivered by Ronald Daniels was also the inaugural "Richard Ekman Keynote Address in Higher Education," established by the CIC Board of Directors in 2021 to recognize president emeritus Richard Ekman for his more than 20 years of service. In another special feature, the Institute hosted "A Celebration of Independent Higher Education" to recognize contributions to the independent higher education sector and honor leading educators and supporters.
In conjunction with the Presidents Institute, CIC offered the New Presidents Program, for presidents in their first or second year, and a parallel program for spouses and partners of new presidents; the Presidents Governance Academy for experienced presidents; and the Presidential Spouses and Partners Program.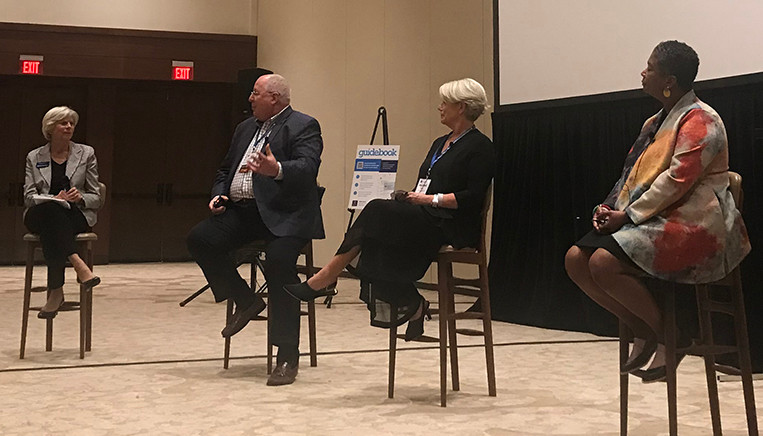 Hot Topics
Popular Concurrent Sessions at the 2022 Presidents Institute:
Alternatives to Merger: New Models for Sustainability and Growth
Bold Fundraising Goals and Strategies to Achieve Them
Preparing for the Coming Demographic Shift
Legal Issues That Keep Presidents Up at Night
Strategies for Diversity and Inclusion at Predominantly White Institutions
Post-Institute Webinars
Note: Two special webinars with speakers who were unable to be present at the 2022 Presidents Institute are also available. Distinguished scholar Richard J. Light, Carl H. Pforzheimer Professor of Teaching and Learning in the Harvard University Graduate School of Education, discusses "Becoming a Great College: Affordable Strategies Independent Colleges Can Employ" based on his new book (with Allison Jegla), Becoming Great Universities: Small Steps for Sustained Excellence (forthcoming, May 2022). And TIAA President and CEO Thasunda Brown Duckett and Baylor University (TX) President Linda A. Livingstone hold "A Conversation about Leadership," during which they consider the opportunities and challenges of this moment for higher education and their implications for the near future.
Institute for Chief Academic Officers
CIC's 2021 Institute for Chief Academic Officers, with Chief Student Affairs and Chief Diversity Officers, took place November 6–9 at the Galt House Hotel in Louisville, Kentucky. The theme, "Constructing the Future: Collaborating for Success," provided a framework to explore holistic, collaborative strategies for increased student success. The Institute was co-sponsored by NASPA–Student Affairs Administrators in Higher Education.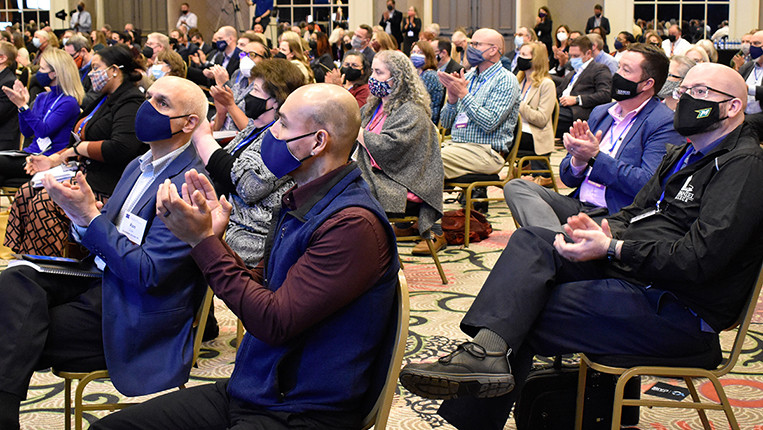 During the first of four plenary sessions, "Revitalizing the Humanities for Social Justice and Civic Engagement," Dan-el Padilla Peralta, associate professor of classics at Princeton University and author of Undocumented: A Dominican Boy's Odyssey from a Homeless Shelter to the Ivy League (2015), explored how liberal arts colleges and universities can better engage the full range of students. In her address, "Civic Engagement and Student Well-being," plenary speaker Lindsay Till Hoyt, assistant professor of applied developmental psychology at Fordham University, explained how campus leaders can create thriving communities of learning that support students' mental well-being and prepare them for active and meaningful civic engagement. In "Promoting Equity and Quality in Student Engagement and Success," Jillian Kinzie, associate director of the Indiana University Center for Postsecondary Research and the National Survey of Student Engagement (NSSE) Institute, drew on results from NSSE, including new evidence about advising, sense of belonging, and career and workplace preparation, to encourage data-informed strategies and action plans to improve educational quality for all students. And during the closing plenary, a panel of distinguished higher education leaders with experience driving strategic change shared their approaches to "Collaborating to Build the Future Campus." Panelists included Eva Chatterjee-Sutton, vice president of student life and dean of students at Washington & Jefferson College (PA); Leanne M. Neilson, provost and vice president for academic affairs at California Lutheran University; and Monica M. Smith, vice president of diversity, equity, and inclusion at Augustana College (IL); Kevin Kruger, president of NASPA, moderated the discussion.
In addition to the Institute programming, CAOs also were able to participate in the Workshop for New Academic Officers or the Workshop for CAOs in Their Third or Fourth Year of Service immediately preceding the Institute.
Hot Topics
Popular Concurrent Sessions at the 2021 Institute for Chief Academic Officers:
Maximizing Student Achievement and Retention
Strategic Academic Review and Realignment
Career Readiness and Curricular Integration
Student Mental Health
Promoting Antiracism on Campus
Annual Awards
CIC announced the recipients of its annual awards during the 2022 Presidents Institute and the 2021 Institute for Chief Academic Officers, with Chief Student Affairs and Chief Diversity Officers.
The 2022 Allen P. Splete Award for Outstanding Service went to Judith Block McLaughlin in recognition of her contributions to strengthening the leadership pipeline and contributing to the success of more than 1,000 college and university presidents. McLaughlin is educational chair of the Harvard Seminar for New Presidents and the Harvard Seminar for Experienced Presidents. She has written and consulted extensively on leadership transitions, presidential assessment, board-president relationships, senior staff functioning, and board governance.

The 2022 Award for Philanthropy (Individual) honors Robert Hale and Karen Hale for their visionary leadership in philanthropic and volunteer support of higher education. The Hales' generous contributions to Connecticut College for scholarships, campus programs, facilities, and infrastructure projects have benefited countless faculty members and students. And through the New Breeze Foundation, they have given their time and talents to raising funds for the college education of children of fallen service members.

The 2022 Award for Philanthropy (Organization) was presented to Cannon Charitable Interests in recognition of the organization's generous support of higher education, health care, human services, and community. Grants from the foundation, which is composed of the Cannon Foundation, the Charles A. Cannon Charitable Trusts, and the Mariam and Robert Hayes Charitable Trust, have allowed Wingate University (NC) and more than 25 additional independent colleges and universities in North Carolina and other states to complete significant projects and implement new programs on their campuses.

The 2021 Chief Academic Officer Award was presented to Ron Cole, provost and dean of the college of Allegheny College (PA), in recognition of his support of colleagues at independent colleges and universities. He has participated as a presenter at nearly every CIC Institute for CAOs since 2016 and led the Mentor Program for New CAOs in 2018 and 2019. Since 2017, Cole has shared his knowledge and advice as a presenter for the CIC Workshops for Department and Division Chairs. Cole joined the Allegheny College faculty in 1994, holding numerous leadership positions; he has served as CAO since 2015.
The videos of award recipients highlight conversations between McLaughlin and Elfred Anthony Pinkard, president of Wilberforce University (OH); Robert Hale and Katherine Bergeron, president of Connecticut College and then-chair of the CIC Board of Directors; and Gene Cochran and William Cannon by Rhett Brown, president of Wingate University.