In June 2023, CIC's Network for Vocation in Undergraduate Education (NetVUE) gathered participants from all five previous cohorts of its annual faculty seminar, Teaching Vocational Exploration. The event was designed to allow these faculty members to meet their peers, to share their work thus far, and to create new plans for the future. The event—known as RIPEN (Recognizing Innovations and Practices to Enhance NetVUE)—was attended by nearly half of the eligible seminar "graduates." It was facilitated by the same two leaders that have led all the seminars, which began in 2017: Paul Wadell, professor emeritus of theology at St. Norbert College (WI), and Darby Ray, Harward Professor of Civic Engagement at Bates College (ME).
Participants described the work that they had done to promote vocational exploration and discernment in their classrooms, in their research, and in their conversations with fellow faculty members on their home campuses. They made posters that narrated their experiences and viewed the descriptions of others' work through a "gallery walk." They heard from panels that intentionally mixed seminar participants from different cohorts, academic disciplines, and institutional types. They also enjoyed meals and social time together, thereby extending the experience of the original seminar—described by one of the facilitators as a place where "participants gather as strangers but depart as friends."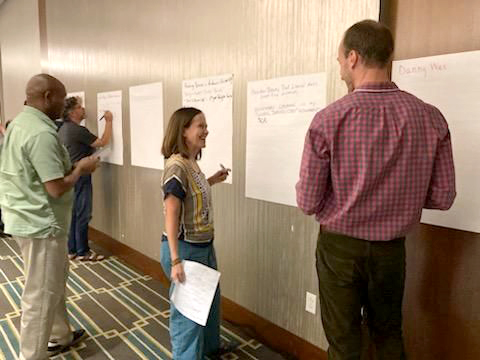 The seminar is open to full-time faculty at NetVUE member institutions through competitive nomination from the chief academic officer. Nominations are now being received for the 2024 NetVUE seminar.
Also in June 2023, CIC awarded two sets of new NetVUE grants to 49 member institutions, totaling over $850,000. A total of 35 institutions received one-year NetVUE Professional Development Awards, which are designed to support opportunities for professional development of staff and faculty members, thus enabling their institutions to strengthen programming for students who are exploring their many callings in life. Proposals can request up to $12,000, or $15,000 for projects that focus on diversity, equity, and inclusion. Nearly $440,000 was awarded in this year's round of NetVUE Professional Development Awards; over its ten-year history, this grant program has issued 217 awards totaling over $2 million.
These grants are especially useful for new members of NetVUE, which typically use grant funds to encourage grass-roots interest in vocation among staff and faculty members. This in turn allows them to build teams that can offer competitive proposals for larger grants in the future. Nearly half of this year's new member institutions applied for and received NetVUE Professional Development Awards, providing an excellent return on the investment they made with their 2023 NetVUE member dues (which are determined by undergraduate FTE, but average less than $2,500 per year). The CIC website provides a listing of this year's 35 awardees, along with brief descriptions of their projects (PDF).
In addition, CIC awarded NetVUE Vocation across the Academy Grants to 14 member institutions. These three-year grants provide up to $30,000 in initial funding, with a second disbursement of the same amount if the institution matches the award through third-party donations. Awards may be made up to $35,000 for projects that involve significant partnerships with local businesses, nonprofits, and community organizations, which means that NetVUE member institutions may receive over $100,000 in total funding through this program. This year, over $430,000 was awarded; over the six rounds of these grant awards, CIC has disbursed nearly $3 million. The CIC website lists the 14 grantees and descriptions of their awards (PDF). CIC also awarded additional funds to institutions that received Vocation across the Academy grants last year and met the donor matching requirement; this brought the total funding disbursed to NetVUE member institutions this summer to over $1 million.
NetVUE programming is made possible through modest member dues and the generosity of Lilly Endowment Inc., which has provided nearly $40 million in funding over the 15 years of NetVUE's existence—nearly half of which has gone directly to member institutions in the form of grants like those described here. Lilly also funds the NetVUE faculty seminar, which is therefore available at no cost to the participants or their institutions.
View more information about NetVUE programs and services. Questions may be directed to David S. Cunningham, executive director of NetVUE, at (616) 632-1060 or at dcunningham@cic.edu.