Vocation for the Life of the World
When asked about their reasons for pursuing higher education, entering students overwhelmingly focus on their expectations of improved job prospects and other elements of professional preparation. But once they have spent some time at college (and especially at liberal arts institutions), they increasingly describe themselves as eager to make a larger impact. They may articulate this as a desire to "help people," to "make a difference," or even to "change the world." How can college and university leaders support these students as they formulate these plans and prepare themselves to pursue them? How can leaders help students channel their particular passions into the kinds of work that will make a difference—and how might they prepare students to face the inevitable obstacles and challenges that they will meet along the way?
Institutions that are members of CIC's Network for Vocation in Undergraduate Education (NetVUE) have already made a commitment to support their students as they explore and discern their many callings in life. When leaders from NetVUE member institutions gather in Atlanta this spring, they will focus on how they might improve this support in ways that will help students address some of the world's deepest hungers. Students and educators alike are being called to contribute to the common good, to engage with our communities, and to provide leadership and healing in the midst of division. Our callings are not just our own; they are vocations for the life of the world.

CIC is grateful to Lilly Endowment Inc. for its ongoing support of NetVUE.
Who Should Participate?
Each NetVUE member college and university is invited to designate a three- to five-person campus team, led by the president, chief academic officer, or another individual at the vice presidential level. The team should include others who play key roles in helping undergraduates explore and discern their vocations, whether focusing on personal development, educational plans, or postgraduate choices. Teams may include faculty members, academic affairs staff, student life staff, chaplains, vocation program directors, career services advisors, and others whose portfolios include helping students to consider their many callings in life.
Thanks to member dues and generous support from Lilly Endowment Inc., the registration fee of $1,200, which includes the costs of two nights' accommodations, all conference meals, and program materials, will be reduced to a $200 registration fee for three team members from NetVUE institutions. Up to two additional team members may register at the institution's expense (with a reduced cost available for those willing to share a hotel room). Participating institutions will be responsible for covering travel expenses for all team members; however, a limited number of travel grants are available. Team leaders who wish to inquire about a travel grant should contact Lynne Spoelhof, director of NetVUE operations, at lspoelhof@cic.edu.
Plenary Sessions
Keynote Address
Called to Understand and Advocate for the Common Good
Meghan Sullivan, Rev. John A. O'Brien Collegiate Chair and Professor of Philosophy, University of Notre Dame (IN)
This generation of students will live their lives in times of unprecedented environmental, economic, and social change. They sometimes naively assume that solutions to these problems will be individualistic and technological, driven by iconoclasts like Elon Musk. They may not have considered the degree to which they themselves might have a vocation to shape the changes they hope to see in the world.
Meghan Sullivan will urge us, as leaders in independent higher education, to encourage our students to consider their potential callings to become confident, strategic diplomats: future leaders and citizens who are able to thoughtfully plot out a course of action with others, who can bring skeptics along, and who understand in a deep way the power of relationships to move the needle on wicked problems. NetVUE member institutions can work together to develop just such a strategy, but doing so will require a deeper commitment to engaging with hard philosophical and theological questions.
---
Roundtable Plenary
Hunger, Hubris, and Community Engaged Learning: Strategies for Slowing Down, Going Deeper, and Doing Better
Darby Kathleen Ray, Donald W. and Ann M. Harward Professor of Civic Engagement and Professor of Religious Studies, Bates College (ME)
More and more NetVUE institutions are adding or expanding community engagement programs. How can we ensure such efforts are serving not only our students and institutions, but also the communities they seek to engage? How can we design programs that strengthen rather than undermine institutional commitments to social justice?
In this roundtable plenary, Darby Ray will help us to identify hallmarks of both ethical and unethical community engagement, suggest specific resources and practices for reducing harm to communities and to select student populations, and facilitate hands-on exercises to build capacity for principled community engagement that advances student learning and community well-being.
---
Closing Plenary
Called to Ethical Leadership at Intersections Where Worlds Collide
Walter Earl Fluker, Dean's Professor of Spirituality, Ethics, and Leadership, Candler School of Theology, Emory University (GA)
This closing plenary session addresses the current crisis of ethical leadership in local, national, and global communities, as well as the complex issues and challenges of leading ethically at the intersections of life worlds and systems. Those who are called to stand at these intersections—where worlds collide—must take on work that is, at best, hazardous duty. When leaders ask people to change, they must expect resistance.
Walter Earl Fluker will describe the vocation of leadership as one that requires a person to discern, deliberate, and decide on fitting responses to challenges that arise at these intersections. This in turn requires re-examination of core values and assumptions about identity (character), about relationships with others in one's environment who are involved in and influence one's ethical decision-making (civility), and about one's primary network of discourse and practice (community). This is a call for our institutions to contribute to the formation of a new generation of leaders who are spiritually disciplined, intellectually astute, morally anchored, and socially and emotionally whole.
Concurrent Workshops
During the conference, NetVUE will host a range of concurrent workshops, featuring leaders who are experts in their respective fields. Conference participants will be able to choose from a variety of topics, including:
Bringing "The Good Life Method" to Your Campus
Character Education and Vocational Reflection
Leisure as an Essential Element of Our Callings
Orientation, Identity, and Vocation
Our Students' Callings to Advocacy and Civil Discourse
Race, Class, and Belonging in Vocational Discourse and Practice
Reframing the Institutional Saga: The Role of Archives and Archivists
The Many Callings of the Student Athlete
Trauma, Failure, and Hardship in Vocation
Is This My Calling? Or Just My Major?
New this year: The 2024 NetVUE Conference will feature a new session focusing on the vocational implications of a student's academic major. Students often struggle in choosing a major, partly because they see it as an event of seismic significance that should align squarely with their callings and their future careers. In each of these sessions, a panel of three experts will address the challenges faced by students in a particular area of study. These sessions will attend to the implications not only for classroom practices, but also for advising, interventions from career service and student success offices, and administrative structures that can support undergraduates as they wrestle with course selection, academic progress, complimentary co-curricular activities, and professional preparation. Areas of study that will be featured include:
Business and Economics
Communication and Education
Fine and Performing Arts
Literary Studies
Natural and Applied Sciences
Pre-Health Professions
Religion and Theology
Social Sciences
Campus-Based Sessions
Participating institutions are invited to develop a concurrent session presentation about any aspect of vocational exploration and discernment. Ideas and programs that emerge from campus experience linked to NetVUE programs, grants, campus visits, faculty seminars, or other initiatives are especially encouraged, as are presentations that intersect with this year's conference theme, "Vocation for the Life of the World." Presentations may focus on any facet of vocation, whether from the perspective of a curricular program in an academic discipline (theology, ethics, literature, psychology, or any other field, or across disciplines) or in relation to campus activities in advising and mentoring, career development, campus ministry, community engagement, or any other campus venue where vocational exploration takes place. Proposals may share effective practices, emerging opportunities, or assessment of what has worked well—and what could be improved—for campus vocational exploration programs.
Deadline for Submission: November 17, 2023
Pre- and Post-Conference Workshops
NetVUE will again offer specialized workshops for those who can arrive a day early or stay through Saturday afternoon. Four options are being offered this year: two (longer) pre-conference workshops and two (shorter) post-conference options.
The two pre-conference workshops will begin on Wednesday, March 20, at 1:00 p.m. and conclude with lunch on Thursday, March 21; the price for either pre-conference workshop is $450 and includes Wednesday dinner, Thursday breakfast and lunch, and overnight accommodation at the conference hotel.
The two post-conference workshops will begin on Saturday, March 23, at 1:00 p.m. and conclude at 4:00 p.m. that afternoon. The price for either post-conference workshop is $50. Some participants may wish to remain for dinner at their own expense. For those who need an additional night of accommodation, a limited number of rooms may be available at the Atlanta Hilton Hotel for Saturday night at the conference rate of $199. To reserve your room, please ask for the extra night when you make your hotel reservation for the conference and pay for the extra night on-site.
Pre-Conference Workshops
Futuring Chaplaincy: Community and Creativity as Vocational Exploration
This workshop is designed for chaplains and staff in mission and ministry at NetVUE member institutions. Together we will explore methods and modalities for building community—with students, faculty members, and staff—who represent a wide spectrum of religious and spiritual expressions, practices, and identities. We will spend time exploring the intersection of identities among chaplains, students, and institutions, with respect to religious traditions and practices. This will allow us to imagine beyond what is familiar and known, and to reframe the role of chaplaincy as we bring issues of well-being to the center. We will also share best practices and case studies for utilizing NetVUE grants and other resources to provide a set of experiences that are grounded in interreligious community, an orientation toward the future, and creativity as an approach to making meaning in the context of vocation.
Heather Gerbsch Daugherty, University Minister, Belmont University (TN) 
Kristen Glass Perez, University Chaplain and Executive Director of Religious and Spiritual Life, Northwestern University (IL) 
Vocation: The Role of the Faculty
This pre-conference workshop explores the various roles that faculty members play in cultivating greater attention to vocation and calling on their campuses. The workshop will equip participants to integrate vocation into the curriculum, student programming, and professional development; pedagogical strategies will be shared throughout each session. The workshop covers a variety of topics relevant to vocational exploration: teaching vocational exploration, both in the disciplines and in general education; developing campus institutes, programs, and centers; and creating modules for small and large groups across campus. Participants will leave with various resources, methods, and models for their own contexts.
Erin VanLaningham (facilitator), Professor of English, Loras College (IA), and Director, NetVUE Scholarly Resources Project
Geoffrey Bateman, Associate Professor of Peace and Justice Studies, Regis University (CO)
Martin Holt Dotterweich, Professor of History and Director of the King Institute for Faith and Culture, King University (TN)
Deirdre Egan-Ryan, Professor of English and Co-Director of Faculty Development, St. Norbert College (WI)
Esteban Loustaunau, Professor of Spanish and Director of the Center for Purpose and Vocation, Assumption University (MA)
Richard Sévère, Professor of English and Interim Associate Dean of the College of Arts and Sciences, Valparaiso University (IN)
Deanna A. Thompson, Martin E. Marty Chair in Religion and the Academy, and Director, Lutheran Center for Faith, Values, and Community, St. Olaf College (MN)
---
Post-Conference Workshops
Making Assessment Practical: Tools for Evaluating NetVUE Grants and Programs
Investing in the development of new classes, programs, or initiatives requires time and resources; hence, evaluating the relative success of these efforts is essential for informed decision making. By effectively evaluating vocation-related initiatives, NetVUE leaders can create opportunities to highlight program successes on campus and consider potential refinements to programming. This post-conference afternoon workshop will focus on the practical elements of assessing vocation-related initiatives and offer suggestions on how to learn from these assessments. The workshop will include time to work on an assessment plan that can be implemented on campus. Workshop participants will leave with tools, examples, and support to help make assessment efforts manageable and productive. Anyone who designs, directs, or assesses vocation-related programming—from faculty workshops and in-classroom activities to co-curricular initiatives in student affairs, career services, or campus ministry—is welcome to register for this workshop.
Rachael Baker, Associate Professor of Chemistry and Biochemistry, Calvin University (MI), and Director, NetVUE Professional Development Program
Dave S. Guthrie, NetVUE Grant Assessment Coordinator
How to Tell Your Story: A Workshop on Narrative Communication Strategies
NetVUE institutions are engaged in innovative and transformative work in vocational exploration. How can we best get the word out—to our various campus constituencies and to others in the network—about the many successes and positive impacts of these programs? This workshop will equip participants to tell their stories more effectively. Topics to be covered include: the power of a good story; the elements of effective storytelling; the process of identifying audience's composition, hopes, and needs; the importance of identifying a story's purpose; methods for discerning the formats, sizes, and media through which a story is told; and approaches to evaluating the effectiveness of our communication practices. Participants will return to their campuses with at least one specific story concept and a plan to bring to fruition the effective communication of that story.
Krista E. Hughes, Associate Professor of Religion and Director of the Muller Center for Exploration & Engagement, Newberry College (SC), and Director of Resource Development, NetVUE
Kelly Ryan, Communications Specialist, Evaluation and Communications Project, The Center for Congregations
Kurt Schackmuth, Vice President for Mission and Associate Provost for Student Success, Lewis University
Participating in Your First NetVUE Conference?
If this is your first NetVUE Conference, you are not alone! Over the course of NetVUE's history, over half of each conference's participants have been new to the network, or at least new to the event. The conference is known for the energy of its participants and an extremely full program, so first-time participants are strongly encouraged to arrive by midday on Thursday in order to participate in a special orientation session. Participants sit at round tables, each staffed with one "conference veteran" who can provide practical advice and offer tips, tricks, and traps with respect to the event. David Cunningham, executive director of NetVUE, will introduce the network, its staff, and its programs and services. This session will also offer guidance for bringing conference insights home to campus, as well as providing an excellent opportunity for newcomers to get to know others. Please join us at 2:00 p.m. on Thursday, March 21, for this important orientation session.
Registration and Payment Process
The NetVUE Conference is open only to members of the faculty and staff at NetVUE member institutions. If your institution is not a member, you can join for the 2024 calendar year and send a team to the conference. View additional information on NetVUE membership.
The registration deadline is January 26, 2024. However, the conference is likely to fill before that date, so earlier registration is strongly advised.
Conference Registration for Campus Teams
Registration includes two nights' lodging at the Atlanta Hilton Hotel and all conference receptions, snacks, and meals.
First three team members
(includes single room for each person)
$200 each
Optional fourth and/or fifth team members
Single room, $1,200 each
Shared room, $800 each
Optional Pre-Conference Workshops
(includes single Wednesday night hotel room)
$450 per person
Optional Post-Conference Workshops
$50 per person
NetVUE Conference Registration, Cancellation, and Substitution Policies
Payment Methods. Please note that CIC requires full payment via credit card, ACH debit, or wire transfer at the time of registration. Those who cannot use these methods of payment must contact Siena McCabe, CIC conference coordinator, by phone at (202) 466-7230 and arrange to send a check, which must be received before registration will be considered complete.
Cancellations of conference registrations always incur a charge of at least part of the registration fee; the amount of the charge depends on the date of cancellation (see details on refunds below).
Substitutions of one team member for another person from the same institution are strongly preferred over cancellations. This avoids the assessment of a cancellation fee. Substitutions may be made until March 8, 2024. No substitutions can be made after this date.
All cancellations or substitutions will require participants to cancel (or, for substitutions, change) their own hotel reservations. Canceling (or substituting) your conference registration does not cancel (or substitute) your hotel reservation. Please contact the Atlanta Hilton Hotel at (404) 659-2000 or follow the directions on the hotel reservation confirmation to cancel. Reservations can be changed without a fee or canceled for a full refund up to 48 hours before anticipated arrival.
Refunds of the registration fee (less a $50 processing fee) will be given for cancellations received, in writing (including email), no later than the registration deadline of January 26, 2024. Refund requests received between January 27 and February 23 will incur a cancellation charge of $200. No refunds will be issued after February 23, 2024. Some refunds may not be issued until after the conference. Please send cancellation requests to the attention of Lynne Spoelhof, director of NetVUE operations, at lspoelhof@cic.edu.
Hotel and Travel
Conference Venue
Hilton Atlanta Downtown
255 Courtland Street NE
Atlanta, Georgia 30303
(404) 659-2000
Please note: Participants must make their own hotel reservations. The hotel room rate for conference dates (Thursday and Friday nights) is included with conference registration; an additional night (Wednesday) is also included for those who register for a pre-conference workshop.
Room Rate:
$199 single/double per night
Hotel Reservation Deadline:
February 20, 2024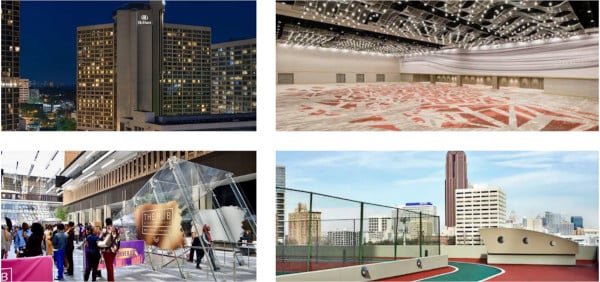 The Hilton Atlanta Downtown is located in the heart of downtown Atlanta and within walking distance to several local attractions including the CNN Center, the Georgia Aquarium, and the Georgia World Congress Center. The hotel features four on-site restaurants including the Market Place for grab-and-go, Trader Vic's for Polynesian fare, Southern Elements featuring southern cuisine, and Nikolai's Roof restaurant, which overlooks the city and offers fine dining. The Hilton Atlanta is a quick 15-minute drive away from Atlanta's Hartsfield-Jackson International Airport.
Hotel Reservations
Participants first need to register for the NetVUE Conference in order to make a hotel reservation. After registration, participants will receive a confirmation email that includes detailed instructions to make a reservation at the Hilton Atlanta. CIC will cover the expense of the first three team members' hotel rooms for the conference dates. The registration fee for fourth and fifth team members already includes payment for two nights' lodging at the discounted hotel room rate of $199 single/double per night (plus $5 daily room fee). Participants are responsible for making their own hotel reservations.
The hotel reservation deadline is Tuesday, February 20, 2024. Hotel rooms may sell out before the deadline, so participants are encouraged to register for the NetVUE Conference and to reserve their hotel rooms as soon as possible. Please note that hotel reservations made after the deadline can only be accommodated on a space-available basis and may be at a rate higher than the CIC rate.
Participants who wish to extend their stay beyond the conference dates may do so at their own expense. A limited number of rooms are available at the conference rate for an extended stay.
Transportation
Hilton Atlanta is located approximately 10 miles from Hartsfield-Jackson Atlanta International Airport (ATL). Estimated taxi fare is $30 one-way per person and an additional $2 for each additional passenger.
Tips for Taxi Use
If paying by credit card, verify the taxi can accept this form of payment before entering the vehicle. Note that many Atlanta taxi drivers are independent operators and do not have the ability to accept credit cards. It is permissible to hail a cab from the curb/street.
Understanding Zone Fare vs. Metered Fare
Atlanta is unique from most cities in that the most heavily trafficked areas are set on flat rate zone fares. Always make note of the company name and taxi number of the cab you are using.
Rental Cars
If you choose to rent a car in Atlanta, ATL's rental car center makes it easy once you have arrived at the airport. The ATL SkyTrain is an elevated train that connects the passenger terminal to the rental car center, and takes customers on a scenic, five-minute ride to the rental car center to sign rental agency contracts and pick up cars.
Rideshare
Uber and Lyft services are available from Hartsfield-Jackson Atlanta International Airport.
All rideshare drivers will pick up passengers at the North and South economy lots, which are a short walk from baggage claim. Passengers will proceed through baggage claim toward the Georgia Lottery booth for access to the lower-level escalators. Once downstairs, follow the orange signs to the Economy lot and request your ride only after arrival at the pick-up location.
MARTA (Metropolitan Atlanta Rapid Transit Authority)
A fast and affordable way to navigate the city, MARTA provides approximately 500,000 passenger trips each weekday in Atlanta. Purchase a re-loadable Breeze Card ($2) and add the desired fare amount ($2.50 per single ride). Breeze tickets also are available for a $1 surcharge plus the $2.50 fare for a single ride. Breeze Cards and tickets can be purchased at Breeze vending machines located in rail stations or MARTA Ride Stores. You can also order the MARTA Visitor Pass in advance. View additional information about MARTA.
Atlanta Streetcar
The Atlanta Streetcar is Atlanta's newest transportation option. The 2.7-mile loop has 12 stops that connect Centennial Olympic Park with the Martin Luther King, Jr. National Historical Park and nearby neighborhoods east of downtown. With a direct connection to MARTA's Peachtree Center station, and other transit services, the Atlanta Streetcar provides the last mile of connectivity to the city's public transportation system. For additional information visit itsmarta.com/streetcar.
Hotel Parking
(As of August 2023)
Self-parking at the Hilton Atlanta is discounted at $30 per day and overnight valet parking is $55 per day. Both rates are exclusive of taxes.
Contact Information
If you have registration questions, contact CIC by phone at (202) 466-7230 or by email at conferences@cic.edu.