NetVUE Consultants are college and university leaders who have strong experience in developing and sustaining campus programs for the exploration of vocation. Some have expertise in student mentoring programs, while others have established vocational exploration in academic curricula. They have created venues in which to deepen faculty understanding of the historical, psychological, religious, and cultural dynamics that shape vocation. These leaders are knowledgeable about religious and secular texts as well as resources that support and encourage the search for meaning. They have worked to embed such emphases in ongoing campus life. Based on years of experience and reflection, NetVUE Consultants are available to guide NetVUE campus communities.
A NetVUE Consultant can provide advice on a specific aspect of undergraduate vocational exploration through an on-campus visit. A limited number of on-campus consultation grants is available to NetVUE members. Grants will cover the time and travel of the NetVUE Consultant for a one to two-day visit. Host campuses are expected to cover on-site accommodations and meals during the visit.
To arrange for a NetVUE Consultant's visit, complete the request form for a NetVUE Consultant Campus Visit and send it by email to NetVUE@cic.edu. The request should include a brief description of your campus goals, needs, and interests, the designation of campus leaders who will take part in the onsite visit, and an attached schedule for the visit. You may request a specific NetVUE Consultant who seems to match the needs that you identify. However, final consultant matches will be made by NetVUE in close consultation with your campus regarding needs and expertise, as well as consultant schedules and availability. Profiles of NetVUE Consultants are listed below.

NetVUE Consultant Profiles
When submitting a proposal for an on-campus consultant, NetVUE member institutions are asked to list their first and second choices from among the available consultants. Please read the biographies below before making a decision about the consultants that will be listed on the application form.
Rachael A. Baker is associate professor of chemistry and biochemistry at Calvin University in Grand Rapids, Michigan, where she studies rare diseases. She is co-founder of the Rare Disease Network, a collaborative organization that seeks to train undergraduate science and pre-health students and provide support and education to the broader Rare Disease community. In 2021 she and her collaborator received Calvin's Community-Based Teaching Award, which recognizes educators who challenge students to work for the good of their local community while preparing for lives of compassionate service. Rachael was a participant in the 2021 NetVUE Teaching Vocational Exploration seminar, which contributed to her development of curriculum to engage students with virtue practices in courses across their programs. The goal of the curriculum is to create unique avenues for conversations about vocation that help students engage thoughtfully in their current and future communities and teams. Rachael holds a BS in biochemistry from Calvin College and a PhD in biochemistry and biophysics from the University of North Carolina at Chapel Hill.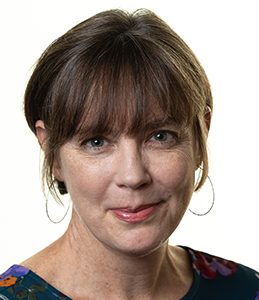 Krista E. Hughes is the founding director of the Muller Center for Exploration & Engagement at Newberry College in Newberry, South Carolina, where she also serves as associate professor of religion. The Muller Center provides resources and programming at the intersection of vocational exploration, civic engagement, and ethical inquiry. Under her leadership, Newberry has integrated vocational exploration into its first-year experience and its advising program. She has been active with NetVUE since 2016, as a grant director on her campus, as a frequent presenter at regional and national conferences, and as a contributor to the Vocation Matters blog. Also active in the Network of ELCA Colleges & Universities (NECU) for the Evangelical Lutheran Church in America, Krista is particularly interested in how institutional vocations can and should shape the vocational formation of students, staff, and faculty. Her work also focuses on the communal dimensions of vocation, including the call to equity, inclusion, and belonging. She holds a BA in Spanish and humanities from Wofford College, an MA in history and an MDiv from Vanderbilt University, and a PhD in theological and philosophical studies from Drew University.
Esteban Loustaunau is professor of Spanish at Assumption University in Worcester, Massachusetts, where he also directs the university's Center for Purpose and Vocation and the SOPHIA Program. The CPV promotes campus-wide collaborations and programming on vocational exploration by students, faculty, and staff in accordance with the University's mission. The SOPHIA Program is a selective year-long academic program for sophomores committed to engage with questions of life meaning, purpose, and vocation. Previously, Esteban taught at Augustana College (IL) where he developed community service learning projects with a focus on vocational reflection. A participant of the NetVUE Teaching Vocational Exploration seminar in 2017, he has served in several CIC/NetVUE projects as webinar panelist, contributor to the Vocation Matters blog, program consultant, and regional gathering organizer. He is co-editor of the collection Telling Migrant Stories: Latin American Diaspora in Documentary Film (2018) and a contributor to the volume edited by Stephanie L. Johnson and Erin A. VanLaningham, Cultivating Vocation in Literary Studies (2022). His interests lie particularly in developing curricular and co-curricular programs on vocational exploration, and in creating opportunities for students, faculty, and staff to share their stories of life meaning, purpose, and vocation. Esteban holds a BA in Spanish at Carleton College, as well as an MA and PhD in modern Spanish and Latin American literatures and cultures from The Ohio State University.
Julie Massey has served as chief of staff at St. Norbert College in DePere, Wisconsin since July 2021. Previously she served as interim vice president for mission & student affairs, associate vice president for mission and student affairs, and senior director for mission and ministry. While in the role of senior director, Julie oversaw the work of both campus ministry and the Faith, Learning, and Vocation program. Julie's experience leading vocation efforts at St. Norbert dates back to fall 2000, when she was named director of the college's program that was funded by Lilly Endowment Inc. through its Programs for the Theological Exploration of Vocation. Julie writes in the areas of spirituality and student affairs, and co-authored the text Project Holiness: Marriage as a Workshop for Everyday Saints (Liturgical Press, 2015). She has been a presenter and workshop facilitator on the topic of vocation at several NetVUE campuses. She delights in helping colleagues consider questions of their own callings, how they might support the vocational exploration of their students, and what the deep stories of their institutions mean for the understanding and expression of calling at the institutional level. Julie is a St. Norbert alum who completed her MDiv at Loyola University Chicago, and recently embarked on an Executive EdD in Higher Education at Boston College. (Yes, Virginia, liberal arts grads really do believe in lifelong learning!)
Kurt A. Schackmuth is vice president for mission and associate provost for student success at Lewis University in Romeoville, Illinois. Now in his 24th year at Lewis, Kurt is responsible for the campus-wide integration, animation, and advancement of the university's Catholic mission and its Lasallian charism as an institution affiliated with the De La Salle Christian Brothers. Kurt also oversees campus ministry and the university's portfolio of vocational exploration programs for faculty, staff, and students. In his capacity as associate provost, he oversees departments and programs that foster and promote student success, including academic support, career services, community engaged learning, the library, the writing center, and international study programs, among others. Kurt has been active with NetVUE since Lewis became a founding member of the network in 2009. His interests include the intersection of vocation and career exploration, Catholic religious charisms, and opportunities to innovate and develop new campus initiatives through NetVUE grant programs. He holds a BA in history and an MBA from Lewis University and a PhD in Higher Education from Loyola University Chicago.
Monica M. Smith is vice president and chief diversity officer at Augustana College in Rock Island, Illinois. Monica Smith cropped.jpgShe is dedicated to education and awareness for cultural competence, social justice, peacemaking, and reconciliation with extensive experience in matters related to diversity, equity, inclusion and justice (DEIJ). She has played a pivotal role in helping the college receive national recognition related to DEIJ efforts and outcomes, including the Higher Education Excellence in Diversity (HEED) award in 2019 and 2020 and Diverse Organization Impact and Transformation (DOIT) certification (2021) for cultivating a diverse, equitable and inclusive campus climate. She is a recipient of the 2021 Women of Influence Award at the 2021 ATHENA Leadership Awards from Women Lead Change, a national leadership organization. She is the author of several articles which appear in Intersections Magazine (Fall 2019 and 2020). Monica is a contributor to the forthcoming volume from the NetVUE Scholarly Resources Project, Called Beyond Our Selves: Vocation and the Common Good. She holds an MS and PhD from the University of Pennsylvania.