NetVUE Regional and Topical Gatherings
NetVUE supports regional and topical gatherings, including multi-campus collaborations, on specific topics. NetVUE member campuses, or a group of campuses, are encouraged to organize and host such gatherings based on issues or themes of interest. Regional and topical gatherings typically draw from 40 to 80 participants, allowing focused discussions and useful networking opportunities based on campus roles, institutional location and affiliation, program offerings, and other points of mutual interest. Events are heavily subsidized by member dues, so that the registration cost is typically only $50 or $100, including all meals and overnight lodging.
View and Register for Upcoming Regional Gatherings
The Biennial NetVUE Conference
---
NetVUE hosts a biennial national conference to which all member institutions are invited to send a three- to five-person team. This inspiring and transformative event features plenary sessions with recognized experts, workshops on vocation-related topics, campus presentations on best practices, and plenty of time for networking and socializing. The NetVUE Conference is heavily subsidized by member dues, so lodging and meals are included for the first three participants from each institution; these teams pay only a small registration fee. Fourth and fifth team members can participate at cost.
The 2024 NetVUE Conference
The 2024 NetVUE Conference will take place from Thursday, March 21, through Saturday, March 23, 2024, at the Hilton Atlanta Downtown in Atlanta, Georgia. The conference kicks off in the late afternoon on Thursday, preceded by a 2:00 session for first-time attendees. A number of pre-conference workshops and meetings of organizational members and other affiliated groups will also take place at the conference, beginning on Wednesday, March 20. In addition, NetVUE hosts several post-conference workshops on Saturday afternoon, after the official conclusion of the event at noon. NetVUE member institutions are encouraged to save the dates, and to begin making plans to form their teams for the 2024 Conference.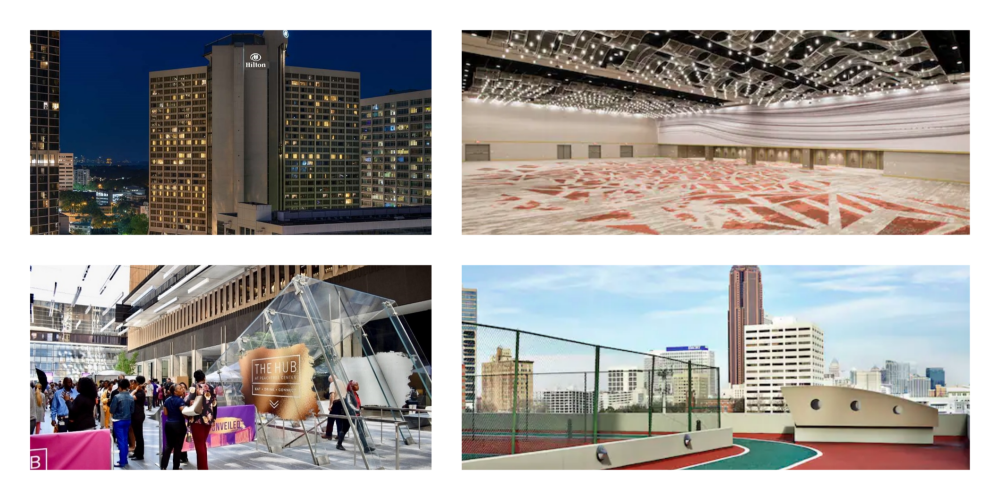 The 2022 NetVUE Conference
The most recent NetVUE Conference took place in Dallas, Texas, on March 23–25, 2022. The keynote address was delivered by Eddie Glaude of Princeton University, with the closing plenary offered by Kathleen Mahoney from the GHR Foundation. An additional highlight of the event was a large plenary session devoted to learning and experiencing the practice of Scriptural Reasoning, led by Nicholas Adams of the University of Birmingham. Pre-and post-conference workshops covered such topics as "Bringing Vocation into the Classroom" and "Promoting Vocational Exploration among Minoritized Students." View complete information about the 2022 Conference.
---
The NetVUE UnConference
While the biennial NetVUE Conference allows us to gather in person, we meet virtually during the off-years at the NetVUE UnConference. All sessions are free for any member of the staff, faculty, or administration at member institutions.
The 2023 NetVUE UnConference
The most recent UnConference took place March 23–25, 2023. Some highlights from that event include:
Eboo Patel's offered the Keynote Address (and attendees received a free copy of his latest book, We Need to Build);
Campus leaders described their work on community engagement and their experiences with transformative grant programs;
Information sessions focused on grants, regional gatherings, and NetVUE resources; and
Participants gathered for a virtual reception, with a snack box sent directly to their doors!
The 2021 NetVUE UnConference
The first NetVUE UnConference took place as a response to the Covid-19 pandemic. Because the most recent in-person conference had occurred in 2019, it had originally been next scheduled to occur in 2021. When that event was postponed to 2022, the UnConference was created as a way for NetVUE leaders to come together virtually.
Video recordings and PowerPoint presentations from UnConference sessions are available to anyone at a NetVUE member institution through the NetVUE Online Community Network; for information on accessing these materials, click here. The next NetVUE UnConference will take place in the spring of 2025, and will be announced on this website and via all NetVUE communication channels in fall 2024. Stay tuned for more information!
---
Teaching Vocational Exploration: The NetVUE Faculty Seminar
NetVUE offers an annual faculty seminar, "Teaching Vocational Exploration," for full-time faculty members in all fields at NetVUE member institutions. The seminar is designed for early- to mid-career faculty members, who will learn to strengthen the teaching of vocational exploration in their own classrooms and to initiate conversations about vocation and pedagogy with colleagues on their home campuses. Each year's seminar takes place in June at a location in the central part of the country; all participant expenses are paid, including a travel stipend.

Faculty members must be nominated for this opportunity by the chief academic officer at their institution. They are asked to submit a CV and a statement indicating their interest in the seminar, as well as a description of the course that they hope to design or modify as part of their work at the seminar.