During the 2023-2024 academic year, staff and faculty members at NetVUE institutions are invited to read together the Summer 2023 issue of Christian Scholar's Review.
This special issue was edited by David S. Cunningham, executive director of NetVUE, and includes articles by a range of writers who have been very active in the network, both on their own campuses and more broadly through their writing and speaking: Bryan Dik, Niki Johnson, Tom Perrin, Amy Santas, Paul Wadell, and Danny Wasserman. It also includes reviews of recent vocation-related books, including several whose authors have been featured at NetVUE events: Kiara Jorgenson, Jason Mahn, Patrick Reyes, and Charlie Pinches and Paul Wadell. The articles and reviews are written for a wide audience and will be of interest to most members of the faculty and staff at NetVUE institutions.
Established in 1970, Christian Scholar's Review is a journal that covers a broad range of issues under the general topic of "faith and learning." Although the words Christian and Scholar are in its title, the journal itself (and this issue in particular) is not exclusively Christian; it is of interest to anyone sympathetic to the task of religiously-informed writing. Moreover, it is not meant only for those who might consider themselves "scholars"; it is interdisciplinary in scope, and its editors ensure that it is not esoteric or incomprehensible to those outside the academic disciplines of the writers. The journal is designed as a forum for discussion of pedagogical and practical issues, as well as theoretical ones; and this issue focuses on the ways that vocational reflection and discernment can play an important role in undergraduate education today.
NetVUE will directly support member institutions that develop local campus projects related to this year's Big Read. Toward that end, up to 20 free copies of the book will be supplied to those institutions that design a compelling program for faculty members, administrators, and staff to read the book in group settings (which may be virtual ones). Member institutions are invited to draft simple proposals (two pages maximum) that address the following five points: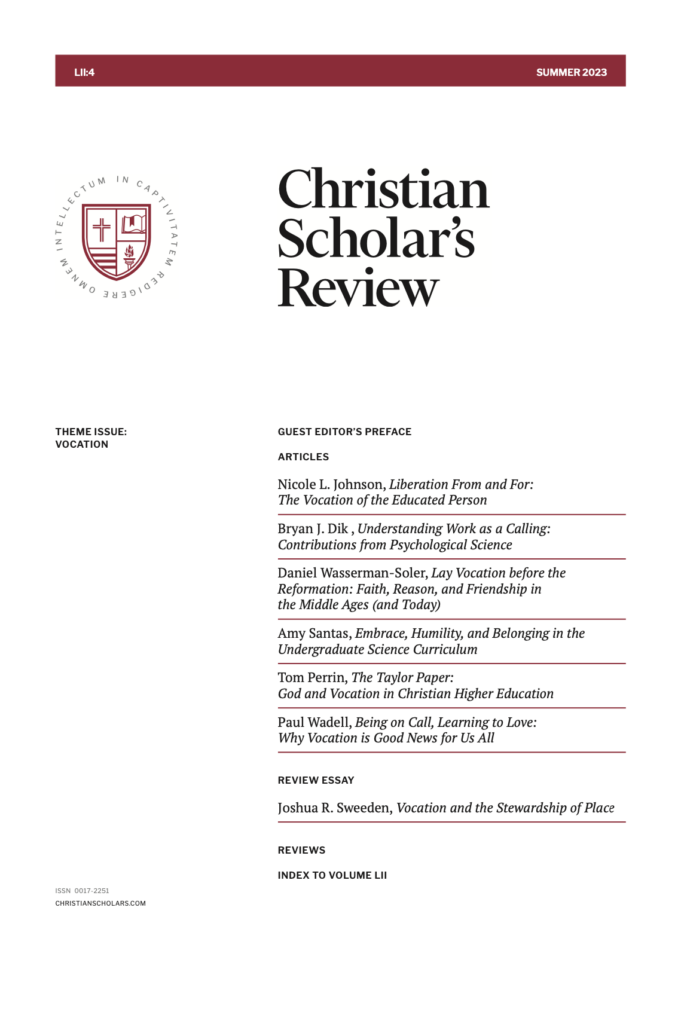 A basic description of the institution's plan for faculty members, staff, and/or administrators to read and discuss the book (including a tentative schedule for reading—whether during spring semester, over the summer, or during the fall semester);
The incentives and accountability structures that will be provided for campus participation in the group reading project and the number of participants that it can reasonably expect to attract;
Any planned campus activities related to the book (public lectures, sharing proposals for the book's use in a future course, or other activities that might draw attention to the book among campus audiences beyond the reading group);
An indication of the institution's planned financial support of its local Big Read project, which should be at least twice the cost of the books that NetVUE is being asked to provide (figured at $10 per copy requested); and
A brief description of how the institution will promote the Big Read and associated program activities (both on campus and network-wide), as well as a stated commitment to provide NetVUE with a one-page report on the institution's experience of the program at its conclusion.
Each member institution may offer one proposal, which should be submitted by that institution's NetVUE Campus Contact. Books will be awarded, and shipped directly in bulk to the Campus Contact, based on the proposal. To apply, the NetVUE Campus Contact should send a document (two pages maximum) in MS Word or PDF format as an email attachment to Lynne Spoelhof, director of NetVUE operations, at lspoelhof@cic.edu. Proposals will be accepted on a rolling basis. Proposals should be submitted at least four weeks before the campus project is expected to begin (to allow adequate time for project approval and shipping).
Contact Information
Questions about the NetVUE Big Read may be directed to David S. Cunningham, executive director of NetVUE, at dcunningham@cic.edu or (616) 632-1060.