Vocation is sometimes considered a matter of individual perspective—finding one's strengths and passions and following a personal calling. Similarly, the landscape of higher education daily feels the impact of individualism—accented by increasing careerism, economic challenges, and a diminishing appreciation for the liberal arts. Many students arrive on campus with a vague sense that a college education should secure them a job; as a result, they often develop a laser-like focus on career readiness, which in turn can decrease their attention to the question of how their callings might address social and communal needs.
Scholars in this seminar considered how our vocations can be better oriented to contribute to the larger context in which we live. How might the contemporary understanding of vocation be expanded to take this larger context into account? What forms of vocational exploration and discernment are most likely to encourage students to think beyond culturally-approved notions of "success" and toward a more robust engagement with the world and its needs? How do experiences of injustice, marginalization, and suffering inform a person's sense of vocation? How can we better frame vocational exploration to prioritize the common good? This seminar aimed to emphasize the ways individual callings are interdependent with communal callings. The scholars hoped to develop ways that educators and institutions can foster vocations that contribute to the common good, beginning on campuses but extending out into our workplaces, neighborhoods, and global and environmental networks.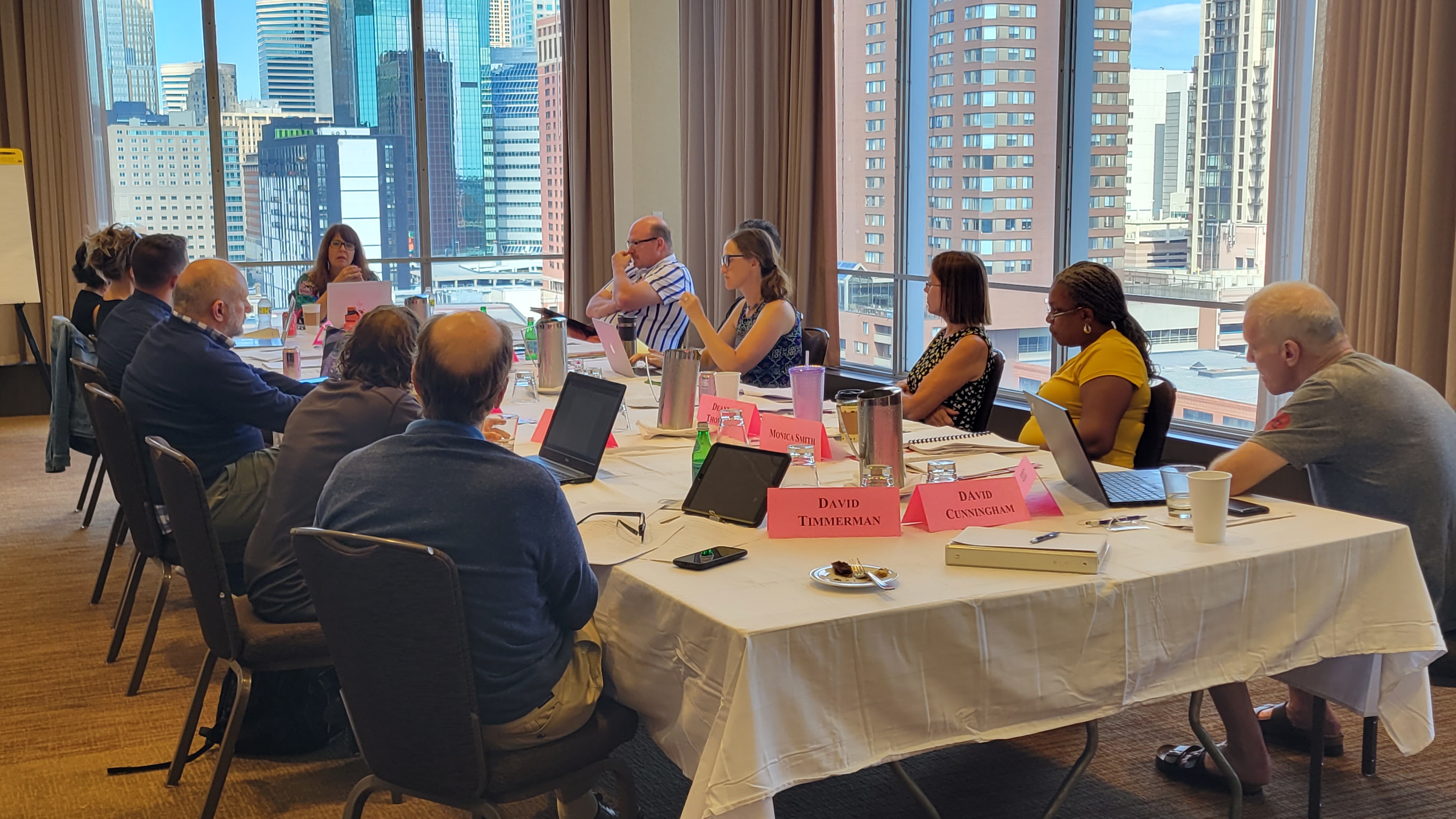 The NetVUE Scholarly Resources Seminar on vocation and the common good—fourth in a sequence of seminars, with a fifth in the planning stages—began by positioning vocational discernment within a concern for others' well-being. The seminar also explored the limits and possibilities of the category of the "common good." Through this expansion of the definitions of vocation and the common good, vocational exploration can challenge institutionalized bias and cultivate civic mindedness, balancing these with immediate individual needs. Educators can foster a sense of belonging through vocational conversations centered in the common good, emphasizing an engagement with a network of causes and communities that can help all to flourish. This involves linking vocational pathways with social justice and seeing vocational purpose as part of contributing to communal wellness. Teaching vocation exploration to undergraduates can offer students and educators an important resource for reclaiming our social, spiritual, and ecological connectedness. The common good is consistently under threat by various cultural forces that prioritize individual success; but when vocation connects individual flourishing with the flourishing of others, we are called beyond our selves to contribute to shared life.
The work of this seminar will be disseminated in many forms, first through the volume Called Beyond Our Selves: Vocation and the Common Good (forthcoming from Oxford University Press in early 2024). We hope that seminar members will also contribute resources to use across campuses by faculty, staff, and students to foster discussions about the intersection of vocation and the common good.
Vocation and the Common Good: Scholars
Geoffrey W. Bateman – Associate Professor of Peace and Justice Studies, Regis University (CO)
Martin H. Dotterweich – Professor of History and Director, King Institute for Faith and Culture, King University (TN)
Jonathan Golden – Associate Professor of Anthropology and Comparative Religion, and Director, Center on Religion, Culture & Conflict, Drew University
Michelle Hayford – Associate Professor of Theatre and Director, Theatre, Dance, and Performance Technology Program, University of Dayton
Christine Jeske – Associate Professor of Anthropology, Wheaton College (IL)
Charles T. Mathewes – Carolyn M. Barbour Professor of Religious Studies, University of Virginia
David M. McCarthy – Knott Professor of Theology, Mount St. Mary's University (MD)
(During the project: Fr. James M. Forker Professor of Catholic Social Teaching and Associate Provost)
Robert J. Pampel – Director of the University Honors Program, Saint Louis University
Meghan M. Slining – Associate Professor of Health Sciences, Furman University
Monica M. Smith – Vice President of Diversity, Equity, and Inclusion, Augustana College (IL)
Deanna A. Thompson – Martin E. Marty Regents Chair in Religion and the Academy, and Director of the Lutheran Center for Faith, Values, and Community, St. Olaf College
David M. Timmerman – Provost and Chief Academic Officer, and Professor of Rhetoric, Carthage College
Contact Information
For additional information about the NetVUE Scholarly Resources Project, please contact Erin VanLaningham, the project's director, by email at evanlaningham@cic.edu or by phone at (563) 588-7200.