Storied. Independent. Together.
Independent higher education has a powerful history of success, creativity, innovation, and openness to diverse perspectives. Our ability to collaborate for the greater good leads to strong outcomes and a legacy that we can continue to build upon as we look into the future. At the same time, we face immense workforce and financial challenges, technological challenges, uncertainty, polarization, and threats to freedoms and free expression. Those we serve in independent higher education are changing. But this is not the end of our story.
CIC is seizing this important moment in independent higher education to amplify the authentic and diverse voices of hundreds of colleges and universities that make up our membership. Each story is remarkable and compelling, rooted in individual and collective goals of supporting students and faculty and building strong, viable, and sustainable institutions.
At the Institute for Chief Academic Officers with Chief Advancement and Chief Communication and Marketing Officers, colleagues will learn with and from each other about how to advance their institutions by telling powerful stories and serving as strong advocates for independent higher education. All of the invited positions play an essential role in telling an institution's story. Participants will exchange best practices with counterparts from hundreds of independent colleges and universities and national experts will provide perspective and inspiration—all in an energizing environment of mutual support, encouragement, and community.
The future of independent higher education is ours to shape: Storied. Independent. Together.
Who Should Participate?
In 2023, the Institute for Chief Academic Officers includes chief advancement and chief communication and marketing officers. Senior-level officers who lead academic affairs, fundraising, development, public relations, marketing, or communications at their institution are eligible to attend, regardless of their specific titles.
Special pre-Institute workshops for new chief academic officers and for those in their third or fourth years of service will be of special interest to participants in those cohorts.
CIC membership is not required for registration; however, only independent college and university administrators may participate.
Plenary Sessions
Opening Plenary: A Fireside Conversation with Dan Porterfield on Independent Higher Education and Its Proposition, Achievements, and Challenges
Dan Porterfield, President and Chief Executive Officer, The Aspen Institute
(moderated by Marjorie Hass)
Independent higher education has been a powerful agent for changing lives, developing talent, supporting communities, and educating leaders for democratic societies. In its original and historical formulation, it was designed to produce an educated aristocratic class of citizens who sought the rewards of an enlightened mind and leadership in their communities. Since then, the sector has undergone vast changes to be more inclusive of people of all classes and aspirations. Yet, as storied as the sector is, it faces challenges of growing cynicism, exhaustion induced by the COVID-19 pandemic, and intractable financial difficulties that are forcing some institutions to close or find new ways of collaborating with each other.
Marjorie Hass will engage Dan Porterfield on these issues and more. They will discuss making the case for small liberal arts colleges and universities, finding opportunities within current challenges, telling a compelling story of the sector, and addressing alternative narratives that have crept into popular discourse.
---
Second Plenary: The Secret to Effective Marketing Is Understanding Its Strategic Purpose
Teresa Flannery, Executive Vice President and Chief Operating Officer, CASE
It is so often heard in faculty or board meetings: "We are the best kept secret." "If only we could do a better job telling our story." Institutional leaders are eager to learn how to organize, resource, and measure marketing efforts, which they expect will lead to institutional awareness and greater success in reaching institutional goals. However, such comments reflect a fundamental misunderstanding of marketing's full strategic purpose, or how it is effectively deployed in higher education.
Teresa Flannery will explore what marketing is—and is not—and will demonstrate how, when properly understood and deployed as a strategic function, marketing builds value for institutions in the form of recognition, reputation, and relationships needed to reach strategic goals. She will challenge institutional leaders to develop two different capacities—differentiating from competition and collaborating to tell a collective story—to help their institutions succeed and to change public perceptions about the value of higher education.
---
Closing Plenary: Burnout Culture in Academia: Where It Comes from and How We'll Get Beyond It
Jonathan Malesic, Author, The End of Burnout: Why Work Drains Us and How to Build Better Lives
A vexing problem in academia is burnout: the experience of exhaustion, cynicism, and ineffectiveness that results from stretching across the gap between the ideals of your vocation and the reality of your job. This problem grew significantly worse as the COVID-19 pandemic disrupted all aspects of teaching, learning, and administrative work. When faculty and academic leaders are burned out, a college or university cannot accomplish its educational mission. 
Jonathan Malesic left his job as a tenured professor at a small liberal arts college after experiencing burnout over the course of several years. Since then, he has published dozens of articles on work and burnout in academic journals and general-interest publications. In this presentation, he will draw from his research, reporting, and experience to address what burnout is, why college faculty and administrators are so vulnerable to it, and how to start building more compassionate institutions that can help prevent and heal burnout. 
Pre-Institute Workshops
Workshop for New Chief Academic Officers
Saturday, November 4
7:30 a.m.–4:00 p.m.
Chief academic officers who have served for fewer than two years are invited to participate in this workshop, led by experienced colleagues, that addresses issues that newer CAOs often face. Participants will work in small groups, analyze case studies, and discuss topics such as accreditation; assessment and institutional effectiveness; faculty governance and leadership; appointments, promotions, and tenure and its alternatives; managing time, technology, and paper; and working with peer administrators. Participants will be paired with an experienced CAO mentor.
Workshop Coordinators
Lori Werth
Provost, University of Pikeville
Lori Werth is provost of the University of Pikeville in Kentucky, where she leads academic affairs, athletics, admissions, institutional research, student services, and student success, as well as the Kentucky College of Osteopathic Medicine and Kentucky College of Optometry. During her 25 years of higher education experience, she has served in a range of positions, including vice president for enrollment management, associate professor of education, and department chair. Werth has worked closely to develop new programs and maintain institutional accreditation. Werth was selected as a Fulbright Scholar to Japan in 2020, where she had the opportunity to learn about Japan's education system as well as establish networks of U.S. and international colleagues.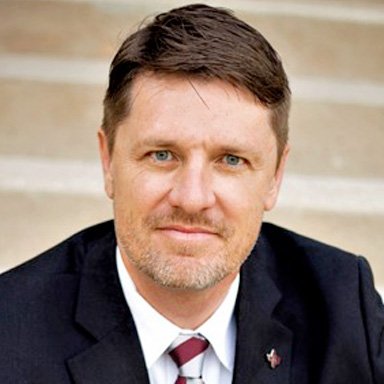 Travis Frampton
Provost and Vice President for Academic Affairs, Schreiner University
Travis Frampton became provost and vice president of Schreiner University in Texas in 2019. He previously served Hardin-Simmons University as vice president for university mission and strategic vision and professor of religion. His scholarly work focuses on the history of biblical interpretation. In 2001–2002, he was a Fulbright Scholar in the Netherlands, where he studied early modern philosophy and hermeneutics at Erasmus University Rotterdam. He earned a PhD in philosophy from Erasmus University Rotterdam and a PhD in religion from Baylor University.
---
Workshop for Chief Academic Officers in Their Third or Fourth Year of Service
Saturday, November 4
7:30 a.m.–4:00 p.m.
Entering the third or fourth year of service, chief academic officers usually have mastered the fundamentals of the role. At this stage, CAOs discover greater opportunities to lead rather than simply manage. What are the key questions CAOs can and should address at this stage in their careers? For example, how do CAOs balance attention to their institutions' immediate issues with a focus on their long-term academic needs? How can CAOs attend to their own professional lives while also serving their institutions? How do CAOs work effectively with the president and other cabinet officers on strategic planning? Participants will explore these and related questions and gain fresh perspective on the next stage of their careers as CAOs.
Workshop Coordinators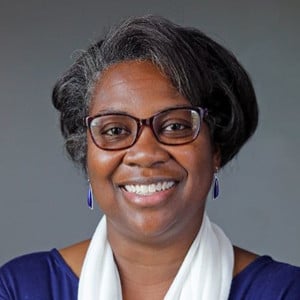 Anita Jones Thomas
President, North Central College; Former Executive Vice President and Provost, St. Catherine University
Anita Jones Thomas is the former executive vice president and provost at St. Catherine University. She has recently become the 11th president of North Central College. In her role as the chief academic officer, Thomas created and led the implementation of St. Catherine's first Academic Master Plan that supports the university's strategic plan. Thomas has more than 20 years of experience in academia, both as a faculty member and an administrator. Her research interests include racial identity, identity socialization, and using culturally affirming counseling approaches with African American families. She has conducted training seminars and workshops on multicultural issues for state and national professional organizations in counseling and psychology, hospitals and corporations, and human service organizations.
John D. Kolander
Provost, Wisconsin Lutheran College
John D. Kolander, provost of Wisconsin Lutheran College, has served as the college's chief academic officer since 2004. Previously, he was a teacher and administrator for Lutheran elementary and high schools in Wisconsin and Minnesota. Kolander's research interests include campus and organization culture, curriculum development, and leadership development. He is a frequent presenter at CIC's Workshops for Department and Division Chairs and Institute for Chief Academic Officers and received the CIC Chief Academic Officer Award in 2018.
Hotel and Travel
Hotel Reservations
Tampa Marriott Water Street
505 Water Street
Tampa, Florida 33602
Phone: (813) 221-4900
Room Rate:
$199 single/double per night

Hotel Reservation Deadline:
October 2, 2023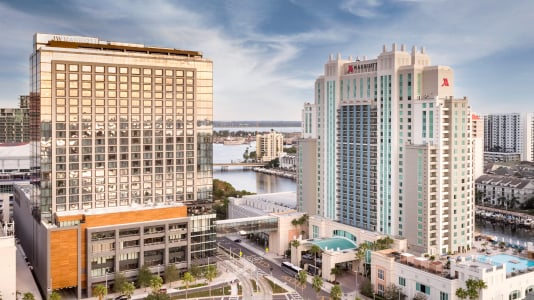 PLEASE NOTE:
Hotel Reservation Procedure: Participants first need to register for the Institute in order to make a hotel reservation at the CIC discounted rate. Reservation details including a discount code will be provided to Institute participants with the confirmation email once registration is completed.
The deadline for registration and hotel reservations is Monday, October 2, 2023. Hotel rooms may sell out before the deadline, so participants are encouraged to register for the Institute and reserve their hotel rooms as soon as possible. Please note that hotel reservations made after the deadline will be accommodated only on a space-available basis and may be at a rate higher than the CIC rate.
This recently redesigned hotel is located near the Tampa Riverwalk and offers views of the water or the downtown Tampa skyline. Tampa Marriott Water Street features several dining options (including grab and go at A La Carte), a rooftop pool, and a state-of-the-art fitness center. The hotel is within walking distance of the Florida Aquarium, Amalie Arena, and Sparkman Wharf and is connected to the JW Marriott Tampa Water Street via a glass skybridge on the third floor. Guests of the Tampa Marriott have access to all of the JW Marriott amenities including restaurants, fitness center, swimming pool, and daily complimentary yoga sessions.
Read CIC's Statement on Event Location Selection.
Transportation
The Tampa Marriott Water Street Hotel is located approximately six miles from the Tampa International Airport (TPA). Transportation to the hotel is available from several providers that are located just outside the baggage claim area of the airport. The approximate fare to the hotel or the downtown Tampa area is $35.00 one way.
Rideshare
Lyft and Uber rideshare services are available. Guests can be picked up at the Red Baggage Claim, the Blue Express Curbside, or the Remote Curbside at the SkyCenter One office building. Note that a service fee of $5.00 will be added to the cost of the fare. The approximate fare is $25.00 one way.
Hotel Parking
(As of June 2023)
Self-parking at the Tampa Marriott Water Street Hotel is discounted at $25.59 per day and overnight valet parking is $34.72 per day. Taxes are included with these rates.
Registration Information
Please review the current CIC Health and Safety Guidelines and Requirements and the CIC Code of Conduct before registering for the Institute.
Registration and Payment Process
Please register for the Institute online. You may pay for the Institute by:
1. Credit Card
Submit a credit card payment online.
2. ACH Transfer
Please select the "pay by check" option and use the following account information for your ACH payment:

Council of Independent Colleges
Routing number: (ABA) 021052053
Account number: 99387090
Addendum: CIC 2023 CAO Institute
3. Wire Transfer
Please select the "pay by check" option and use the following account information for your wire transfer payment:

Council of Independent Colleges
Banking Institution: Truist – Branch Banking and Trust Company (BB&T)
Routing number: 054001547
Account number: 0005163140944
SWIFT Code: BRBTUS33
4. Check
Mail a check payable to "Council of Independent Colleges," with a memo indicating the check is for the CAO Institute and a printout of your online registration page, to:

CAO Institute
Council of Independent Colleges
One Dupont Circle, NW, Suite 320
Washington, DC 20036-1142
To ensure timely preparation of accurate and complete conference materials, please register for the Institute by Monday, October 2, 2023. The deadline for the early-bird registration rate is September 1, 2023.
Registration Fees
(includes Welcome Reception and Dinner, All-Institute Reception, Boxed Lunches, and all Breakfasts)
CIC Member Rates
Early Rate
(By Sep. 2)
Regular Rate
(After Sep. 2)
Chief Academic Officer
$745
$800
Chief Advancement Officer
$690
$745
Chief Communication/Marketing Officer
$690
$745
Other Academic Administrator
$690
$745
Spouse/Partner
$275
$275
---
Non-Member Rates
Early Rate
(By Sep. 2)
Regular Rate
(After Sep. 2)
First Administrator
$940
$985
Second Administrator
$890
$940
Spouse/Partner
$350
$350
Not a CIC member? In addition to reduced registration fees for the Institute, view the full list of member benefits.
---
Special Events
Early Rate
(By Sep. 2)
Regular Rate
(After Sep. 2)
Welcome Reception and Dinner (guest only)
$150
$150
Workshop for New CAOs
$100
$150
Workshop for CAOs in Their Third or Fourth Year
$100
$150
CIC Conference Registration and Cancellation Policies
Please note that CIC requires full payment by check, credit card, or wire transfer at the time of registration.
Refunds of the registration fee (less a $50 processing fee) will be given for cancellations received, in writing (including email), no later than October 2, 2023. Refund requests received between October 3 and October 21 will incur a charge equal to 25 percent of the total registration fee. No refunds will be issued after October 21, 2023. All refunds will be issued after the Institute. Please send cancellation requests to the attention of Siena McCabe, CIC conference coordinator, at smccabe@cic.edu.
Participants must cancel their own hotel reservations. Canceling your Institute registration does not cancel your hotel reservation. Please contact the Tampa Marriott Water Street Hotel at (813) 221-4900 or follow the directions on the hotel reservation confirmation to cancel. Reservations can be changed without a fee or canceled for a full refund up to 48 hours before anticipated arrival.
Contact Information
If you have registration questions, contact CIC by phone at (202) 466-7230 or by email at conferences@cic.edu.
Sponsors
Premier
Chief Academic Officers Task Force
The program of the 2023 Institute is being planned with the assistance of CIC's Chief Academic Officers Task Force. Members include:
Kerry Fulcher, Provost and Chief Academic Officer, Point Loma Nazarene University (Chair)
Christon Arthur, Provost, Andrews University
Kim Coplin, Provost, Denison University
Brian Flahaven, Vice President, Strategic Partnerships, Council for Advancement and Support of Education (CASE)
Jeffrey Frick, Vice President for Academic Affairs and Dean of the College, Washington & Jefferson College
Lisa Long, Provost and Vice President for Academic Affairs, Allen University
Juan McGruder, Vice President for Advancement, Oglethorpe University
Catharine O'Connell, Provost and Dean of the College, Illinois College
Kinnari Sejpal, Vice President for Marketing and Communications, University of the Redlands
Titi Ufomata, Senior Vice President for Academic Programs, CIC
Lori Werth, Provost, University of Pikeville
Tynisha Willingham, Provost and Vice President for Academic Affairs, Eastern Mennonite University
Todd Woodward, Vice President for Strategic Communications and Marketing, Colorado College